January 16, 2009
0

found this helpful
It can vary; but like the old Puppy Chow commercial used to say, "puppy chow for a full year, till she's full grown". Probably not so much the last 3 months of the first year; but she's still growing.
She is gorgeous, by the way.
January 17, 2009
0

found this helpful
What a beauty! I have had large dogs all my life and generally they grow until about 2 years of age. My dad used to say they don't get a brain until 2 or 3. LOL Now is the time for training, be consistent. Good luck! P
Pictured Yukon on bath day!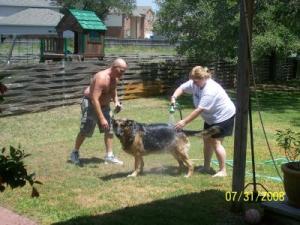 January 19, 2009
0

found this helpful
We adopted a rescued 1 year old pit, and he grew until age 2. He was starving at age 1, weighing 19 lbs., and by age 2, a slender 60+ pounds thanks to Nutra Pet and Hill's Science Diet.
I guess they grow taller until 2, then fill out.
January 19, 2009
0

found this helpful
My first dog, who I got when I was 2, was named Tippy! From what I've read, puppies (and kittens) aren't considered adults and full-grown until they are 2.
January 19, 2009
0

found this helpful
Three years for all large breeds. The seals in the bone ends are the indicator, same as in horses.
By (Guest Post)
January 22, 2009
0

found this helpful
Thanks for all your help. I'm glad she still has some growing left! I also have a St. Bernard puppy, she is 8 months old. Her name is Dixie. I rescued her. Her original owners got her as a 8 week old puppy, and didn't relize how much she would end up eating as a growing puppy.
They were only feeding her 2 cups of food a day, wich she gobbles up in like 2 seconds. I got her 3 weeks ago. She still has some catching up to do on her weight, but she is looking much healthier. She is currently eating 4 pounds of food a day!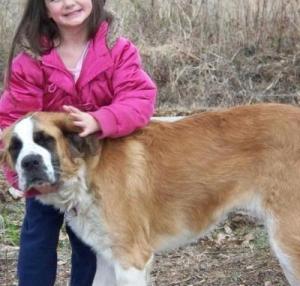 October 6, 2010
0

found this helpful
Please tell me what the breed is at the right top of this page? My pup looks exactly like that dog! Her mom was a white Shepherd as far as we know. Father was a fence jumper. Lol. She actually runs like a deer and has legs and feet like one. She talks just like Scooby Doo. She is 7 1/2 months.
Thank you for any info. =)