I learned at the knee of my single dad, a dad of 2 young girls. When my mom died, I was 8 and my sister was a newborn. No longer could my dad go away for work, so he quit his well paying job and moved us closer to his family.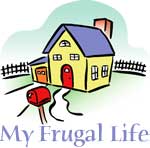 He found a job where he was home every evening to make us dinner and tuck us in at night. My grandma and grandpa watched us when Dad wasn't home.
We lived a simple life, had a roof over our heads, good clothes (usually hand me downs from relatives or thrift store purchased) and healthy food to eat. Dad had a garden and we had an uncle who gave us meat for work on his farm. I did chores before and after school, so therefore I stayed thin! We didn't have money for extras very often, but we always had what we needed the most; love and time with dad.
I grew up, got married, had 3 girls, got divorced and have now been a single mom (with no help from the dad at all!) for 10 years. I work part-time from home and part-time away from home. I am able to send them off to school each day and most of the time pick them up from school thanks to my flexible shifts at work. I also am home in time to tuck them in bed at night, like my dad!
We all shop at thrift stores and I work at a retail clothing store where I get 50% off my purchases so that helps with dressing us well. I love free sample sites and love getting coupons in the mail to help with expenses. My girls have what they need, don't ask for extras, but love it when there is a little money for a trip to the fair each summer. We take advantage of free activities and I splurge rarely for cheap tickets to a movie.
My children are happy, well fed, have many friends and definitely know the value of a dollar. I was taught well, and hope that I have passed along the values of frugality that I hold dear.
By Cindy from Medicine Hat, AB CANADA
Do you have a frugal story to share with the ThriftyFun community? Submit your essay here: http://www.thriftyfun.com/post_myfrugallife.ldml