Lily is a 6 year old Silky Terrier/Chihuahua. I found Lily through the local paper. I was looking for a lapdog, and after having cats for so long, I knew a small dog with a personality would be the right choice. She was 6 weeks old and already knew how to charm me. The woman I got her from held 4 puppies in her arms for me to choose from and Lily jumped out of her arms to me - literally. So, she really picked me.
Lily loves to cuddle, roll around in the grass on a sunny day, dance for her treats and chase rabbits out of her yard. Lily helped me through a very emotional divorce. Every day I come home she greets me with a wagging tail and what I like to call, a smile.
That little girl has put more smiles on people's faces than any other dog I've met. She's even brought people to tears with how cuddly and loving she can be. There's not a day that goes by that I'm not thankful for her. She's the best dog-kid a 'mom' could ask for!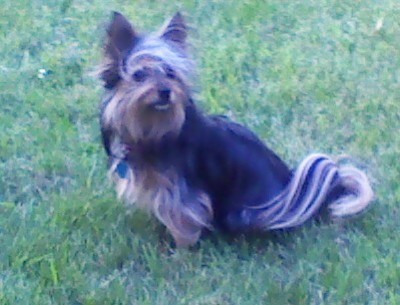 By Janine