May 20, 2008
0

found this helpful
If you don't have a scratch post for the cat it would be a good investment. Also try hanging some catnip on the scratch post. The next time you see your cat sharpening its claws on the furniture. Hit the cat with a quick squirt of water from a spray bottle. The cat will soon learn to stay away from the furniture.
August 30, 2017
0

found this helpful
Doesnt work with our cat. I think she likes it. She does it more i think. Going to try the double sided tape and see if that works. Also im trying first spraying furniture with vinegar,hopefully she hates that
September 6, 2017
0

found this helpful
I tried double sided tape on my chairs and our 1 year old cat decided to stick her paws to it to pull it off and play with it. It was quite funny watching her try to get it off her paws once she pulled it off the chairs.
She would shake her paws trying to get it off. I've persevered with the water pistol and after a few weeks of using it, she has lost interest in clawing the furniture. The vinegar and water works on kitchen counters, I hate open plan rooms when a cat is inside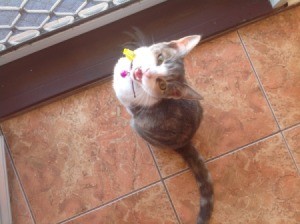 March 8, 2018
0

found this helpful
DOES NOT WORK
April 3, 2018
0

found this helpful
I tried that but alas my cat likes the water bottle like its a treat. She actually runs towards the bottle and sits, waiting for me to squirt her front paws so she can lick the water off. Go figure
May 20, 2008
0

found this helpful
I agree with MCW. The spray bottle works and a post with catnip will be welcome.
My neighbors have leather furniture and a large cat and nothing is scratched. That cat has worked over the post and loves it.
By Me (Guest Post)
May 20, 2008
0

found this helpful
I've never had a cat but I know they sell things you can put over, either their feet, or the nails.
May 20, 2008
0

found this helpful
I agree to use a spray bottle but also most pet stores have a type of 2 faced tape that is clear and will stick to furniture without causing any harm and is nearly invisible. It comes in about ft long strips. I have used this with much success as sometimes cats will scratch behind the furniture where water can't reach them or will carry on the scratching when you are not at home.
I have also used this to keep them off of things I don't want them on. If used on wood it will come off cleanly with WD40. I am sorry I can't rem. the name of it but cats do hate the sticky stuff and once getting a paw on it will stay away.
May 20, 2008
0

found this helpful
There is a pet-off solution that you can buy at most pet or farm stores that one can spray on furniture. It leaves no marks. It has a scent that pets don't like. That along with taking your cat to a scratch post that has been rubbed down with catnip should do the trick. One of the things I have done with my cat when introducing them to the scratch post is to take their claws and actually claw the post with them. Seems to work.
March 20, 2019
0

found this helpful
I tried the mark of and he stillllllll claws mmy furniture
May 20, 2008
0

found this helpful
We have 3 cats and none of them scratch the furniture, although they will scratch on the carpeting occasionally. We have 2 cat condos with scratching posts, a scratching pad that looks like a little ramp, and a Turbo Scratcher which they love to play with and scratch...you can do a search for them on the internet to see what they look like.
I even found some videos on YouTube of cats playing with them!
By Paula Jo Carr Mebane, NC (Guest Post)
May 20, 2008
0

found this helpful
We have 3 neutered males and 2 spayed females cats AND they do not scratch the furniture BECAUSE when I see them getting ready to "do it", I squirt them with water that comes out of an old windex bottle. When they see me heading toward the squirt bottle they all vanish knowing all to well that one of them is going to be squirted!
They know they are not to scratch on the furniture or whatever the offense may be, like jumping up on the kitchen cabinets etc. We bought them a special rug that they can scratch on. I just took their paws and showed them where they could scratch at by rubbing their little paws on the rough fabric AND now that is the only place they go too to scratch. We live in a small 1216 square foot home and have a real 3 piece set of leather furniture and it is still fine.
Good luck and I know this does work and quickly to train them to not do what they are doing no matter what it may be.
May 20, 2008
0

found this helpful
My cat is 13, and has developed some bad habits, but I drape matching throws over the arms of my couch and love seat. He is not interested in scratching on the arms when they are covered.
We have a scratch post and a scratch box, but he still likes the furniture, if the throws are not covering up the arms.
By J & My Three Purr-Sons (Guest Post)
May 20, 2008
0

found this helpful
Most commercial scratching posts are perfect in size for kittens but too short for adult cats, especially large ones. How high on your furniture has your cat been scratching? Although the bases seem wide and stable enough, vigorous scratching near the top can pull the post over... usually onto the cat! Feeling insulted, they never go near the post again.
Larger cat"trees" or condos are better but expensive; and they take up a lot more space.
Scratch pads that lie flat on the floor are great for most of my cats, although some continue using posts successfully. I use various pads (all include catnip) made from
a) low cardboard boxes packed with strips of cardboard (bought in stores)
b) sisal rope wrapped around carpet-covered wood (both surfaces are available for cat)
c) just carpet-covered wood
d) accordion-folded carpet remnants, finished size about 2 feet by 3 1/2; to 4 feet.
At first I keep pads right in front of furniture that's been scratched. Gradually I move the pads away to the least attention-grabbing but still effective place.
I also trim my cat's claws regularly so if they do attack furniture occasionally, they won't be as destructive. Train cats with treats to accept the trimming. For us it's a good time for snuggling before and after.
By Chrissey (Guest Post)
May 20, 2008
0

found this helpful
I have six indoor only cats (yes, six - I'm crazy). Mine never scratch on the furniture or the drapes. I have two carpet covered scratching posts and a large cat condo for them to scratch on.
The last cat I brought home didn't want to use the scratch post - he thought my couch was better. So, I just took some clear packing tape and put that on the corner (you can't see it) then set one of the scratch posts by the couch. It took him about 30 minutes to figure it out.
You really don't need to buy the expensive, fancy double side tape. Regular tape works just fine. The cats don't like the texture and won't scratch on it. After a week or so of it being there, the cat will "forget" about it and be used to using the appropriate spot.
May 21, 2008
0

found this helpful
If you want her to stop scratching furniture, give her something she would rather scratch. I made a floor to ceiling scratcher for my Maine Coon because nothing else was large enough. Of course, the other 3 love it too and leave the furniture alone.
May 22, 2008
0

found this helpful
There are caps for cat nails, that go on with glue, and stay on indefinitely. They come in great colors and they solve the problem! I saw them at the vet office, but they are probably out there on the net -
October 12, 2019
0

found this helpful
Did you ever try to glue those cute caps on a squirmy cat? Those caps are very small!