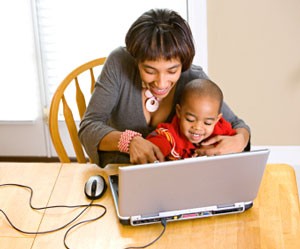 Saving Money on Your Internet Connection
Tips for saving money on internet service as suggested by the ThriftyFun community.
Consider Dial Up
Ask yourself if there is a real need to have the fastest Internet service at premium prices. Keeping your computer maintained will keep your computer functioning faster.
Consider unlimited "Dial Up Service" for $9.95 a month. I prepay 3 years and have not had a problem with my local ISP. I feel I have more time than money! There is nothing that I need that fast to pay a premium price to have the fastest Internet Service.
By Syd from Dunkirk, MD
Look for Local Providers
We have been using Provide.net for about 2 years now. It's only $10 a month and we never have problems with them. They are more Mac friendly too. It's a local service and that's the key. You want the local services because they don't have all the overhead and advertising the big guys do. Everyone I know who's had AOL has problems and they're way too expensive. We had Earthlink before for $20 a month and they were fine. But it's only a connection to the internet and all of them can do it.
By Vicki
Shop Around and Pay in Advance
Check with the various internet providers and see if they have a better price if you prepay for a year at a time instead of monthly. I mentioned this to my daughter, who is on AOL, and to her surprise, it saved her about $50.00 a year. Keep the dollars in your pocket not your ISP's pockets.
By Syd
Netzero.com
We use the dial-up service with netzero.net and are only paying $6.95 per month. I have been with them for several years though to get this price.
By Jess
Verizon ISP and Cell Phone
If you have a Verizon cell phone that is USB enabled, Verizon is a free ISP. You use regular minutes with free use after 9 and on weekends.
Read More

Comments

Hello Frugal Friends, I was wanting to know how much your internet service is. I use to have dial up with Netscape ($21.95) now I have DSL with Verizon which was $17.99 but now has raised to $21.99. I am thinking of switching again and would like some advice on that.
Thanks for your help,
Teresa from VA
Answers

July 21, 2007
0

found this helpful
We have dsl with Verison and pay 27 a month. 22 is a great deal around here. I would call them and tell them that you do not want the price raised and that you are willing to go to a different company for XX price.
The big companies around here will buckle and extend the cheaper price for about 6 months to keep you as a customer.

July 21, 2007
0

found this helpful
Wow, $21 a month would be a deal in this part of the country. Here in rural AL I had been paying $39 a month for broadband through my cable company and I only got it lowered to $29 a month by switching my phone service over to them and "bundling" my phone, cable, and internet services together. I agree with tupperangel, call and see if they will give you a better deal. What is the worse they can say, NO? You don't have anything to lose....one thing I do know, I would NEVER go back to dial-up...way, way, way to slow for me. Worth every penny for me to stay with broadband. Hope this helps......
By jean from MI (Guest Post)
July 25, 2007
0

found this helpful
I have been using mybluelight.com dial up for a long time. I pay $9.95 per month.
By Jean in GA (Guest Post)
July 25, 2007
0

found this helpful
While I'm not on DSL, I am on cable. $47 a month plus another $50 for tv. $5 each for 4 tv for digital. Another $15 for HBO.

July 25, 2007
0

found this helpful
Hello, i'm self supporting and i have to stay on dial up so i use Netscape and 10.95 a month although i have seen a disk for Netscape for 6.95 month..

July 26, 2007
0

found this helpful
We pay $34.99/month for cable internet through Charter. That may seem pricey, but we also have Viatalk phone service, which uses the cable internet, for only $14.99/month.
So combined phone and internet is $50.00/month.
By Julia (Guest Post)
July 26, 2007
0

found this helpful
How lucky for all of you that have DSL. I had it when I was at my old apartments but I moved recently to a place with lots of businesses (believe it or not) and was told that none of the phone towers (for DSL) are close enough, so it was either cave in to COMCAST's unreasonable rates, or this Wireless company which is unreliable, or go back to dial up. I've gone back to dialup but would LOVE to have DSL again. When I had it, it was thru Verizon at $14.95 a month and they tried to tell me that was a slower speed but it was certainly faster than my dialup so I'd love to have that slower speed DSL again. PLEASE!
By Sweet Peaches (Guest Post)
July 26, 2007
0

found this helpful
I had Aol but got fed up with paying the high price for their SLOW dial up so I canned them.well I went to several other dial ups because where we are,we can only get dial up or Dish.[at $79.95 a month.] well AOL gave me a good deal for subscribing again.
free 2 months and then.. $9.95 a month.heck I believe it's faster than it was now.!! I'm not a cheapskate but we're Retired and every penny counts so I was really happy with the lower price.their explanation was because we don't have all the extra security we had at $23,95.I have installed Symantec so I don't need their EXTRA security.
By Tami Reed (Guest Post)
July 27, 2007
0

found this helpful
net zero hi speed for 12.95 a month

August 5, 2007
0

found this helpful
Depending on the speed you need, AT&T has DSL plans that start at $14.99 a month. But, a pretty fast one is $19.99 a month. That's the one I use.

Betty
Bronze Post Medal for All Time! 104 Posts
July 14, 2010
0

found this helpful
I bundle services with my cable company. I have extended basic cable (about 70 channels), unlimited long distance calling (digital phone) and internet service and my total bill is $110 a month which includes all the taxes, etc. Internet is plenty fast enough. Bundling seems to be cheaper but I wish I could find something cheaper.
Answer

this Question

What is a good and the least expensive Internet Service?
By Irmi

Answers

Joan
Bronze Feedback Medal for All Time! 186 Feedbacks
June 13, 2012
0

found this helpful
Best Answer
A lot will depend on where you live. Do a google search and see what you come up with. I don't think any of the cheap ones are that great, I used to use them and what usually happens is after you have them awhile they increase the prices. Several years ago I switched to Qwest(now Century Link), at the time I switched to them they were running a special for $29.95 or something with absolutely no increase in rates for the amount of time I would stick with them.
I haven't had any problems with them and I have probably been using them for five years. With the cheaper ones I was usually looking for a new service year or so.
Answer

this Question
Today's poll asks: How much do you spend on internet access? Post your answer below.
Poll: Internet Access
How much do you spend on internet access?
$20 or less (95)

$21 to 40 (107)

$40 to 60 (55)

60 or more (11)

Feel free to post feedback about this poll in the feedback forum below.
Answers

April 26, 2006
0

found this helpful
I pay yearly so I receive a $2 a month discount. It comes to $19.95 monthly as opposed to $21.95 a month. Also, my ISP gives the same discount of $2 if you are an AARP member. I like the yearly billing since I am very satisfied with my ISP and don't have to worry about monthly bills. They notify me a few months prior to my year being up so I then make arrangements to pay and it is taken care of. No more worries.
LI Roe
By nancy80501 (Guest Post)
April 26, 2006
0

found this helpful
I pay $9.95 a month and have it billed to my Discover card every month (they give discounts). I really like my ISP , but prefer to go monthly so that I can switch to cable when I win the lottery :>)
By christi (Guest Post)
April 27, 2006
0

found this helpful
I spend 19.95 a month on cable internet. I got a deal for four months, then it goes up.
Answer

this Question

I found that I use Netflix way more then cable TV. My cable is $95 a month and I called to cancel the cable. They told me if I cancel the cable they will take $20 off my bill. If I cancel cable and phone $37, but I need internet to watch Netflix. I already decided to cancel my cell phone this month. That means I need the house phone, because my free phone only gives 200 minutes and I need that during travels.
I suffer with anxiety so I need a phone. I am now able to save $100 a month with the other deductions, which is what I wanted to begin with. So now I think keeping the cable for at least the rest of the year would work out best. I hate how they just rob me.
Does anyone know an internet or wifi option in NY for less than $57 a month? Thanks.
By Shay
Read More

Answers