Have you noticed some brands and types of bread are approaching 5 dollars a loaf? I won't pay that price. As someone who remembers bread for 10 cents a loaf, and as someone who takes inflation through the decades into consideration, I consider 4 and 5 dollars for a loaf of bread, sheer greed!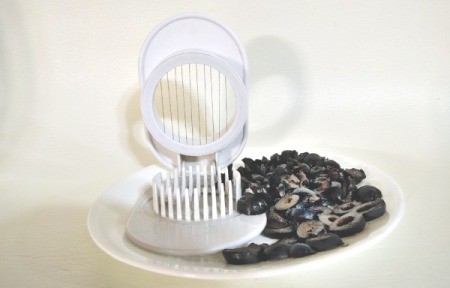 I like Walmart's French bread. I don't taste the soybean oil in it. At a dollar for a full size loaf, I usually buy 10 loaves at a time and freeze them. The bread may be a loss leader for Walmart, but I figure if they can do it, so can other stores.
I make a little snack using this bread, and I really enjoy it. On French bread toast, I spread a liberal amount of neufchatel cheese that has been allowed to come to room temperature. Atop the cheese, I spread a layer of sliced, ripe olives. That's it! Simple, but very good, especially if eaten while the toast is still warm.
I've been slicing the olives with a small paring knife. Tonight, I tried something different. I sliced them using an egg slicer. Same results, it took about a tenth of the time. Glad I thought of this little time saver. If you're into doing your own pizza, using the egg slicer to slice olives could really come in handy.