October 29, 2009
0

found this helpful
I think a golden yellow with a slight hint of brown would be beautiful. As green is my favorite color my house is golden yellow, with brown cabinets and red, green and orange accents. (pots, pans, bowls, misc. kitchenware.
October 30, 2009
0

found this helpful
I think your idea of chocolate brown would be beautiful. Here's what I did to change my cabinets from "golden oak" to chocolate brown - it was way easier than paint.
Sand the cabinets lightly - then wipe on a dark brown stain. Once it's dry, use wipe-on polyurethane to give it a shine.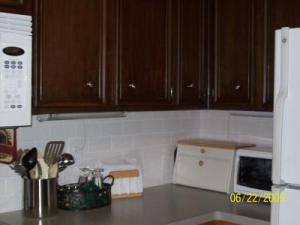 October 30, 2009
0

found this helpful
One thing to keep in mind is that cabinets are more permanent (and expensive to replace) so choose a color carefully that will carry over with wall colors in the future.
That chartreuse-like green on the walls you like now may not be something you want in a year. Cabinets don't respond to multiple paint jobs like walls.
I can't get a larger picture of your space but it looks like your counter tops are brown? Yeah, I wouldn't go with a brown. It also depends on the connecting rooms as well. Furniture, wall colors, etc will make a difference.
Other than black or white, without other pics of the space and connected rooms, white would probably be the my first guess but that might be too bright for the space. Brown cabinets and a brown counter top equals not good.
I would go to some places like Sherwin Williams online where you can put paint on walls in spaces and see what works with it. Good luck.
October 30, 2009
0

found this helpful
My thought was to lightly go over the cabinets to remove finish and then restain with a darker color. Then you're keeping the woodgrain appearance and paint sure would be harder to remove if you ever wanted them to be original wood again. You can also mix stains and get different shades of stain. I mixed half and half of Colonial Maple with Golden Pecan and stained the middle of the cabinet and then mixed half and half of mahogany and cherry to do the outer border of cabinets, grooved decor and edges.
September 5, 2011
0

found this helpful
Southern Saver - I love what you have done to your cabinets! They look very pretty with the back splash. I live in a townhouse built in the late 80's with original builder oak cabinets. My kitchen looks very dated. Most forums recommend painting the cabinets a white/ivory color, but I prefer classic rich wood tones with brushed nickel hardware like yours. Which brand and color of stain did you use on your cabinets?
Thanks!