So you are young and getting ready to make your own home for the first time, whether an apartment or your first house. Of course, you want to decorate to impress as well as to express your taste.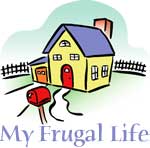 You also want to make a welcoming, comfortable place for yourself and your guests. You'd like top of the line furnishings, but they cost so much and you don't want to end up getting into debt. You can buy cheap furniture, but it really doesn't hold up well, and there you are a few years later, buying more, spending more.
If you haven't already thought about it, consider furnishing your home with used items. It may take some time and shopping around, but you will save yourself thousands of dollars in debt. If you look at garage sales, on-line, and in thrift shops, you will find a huge variety of used furniture, decor, and furnishings.
Many thrift shops have half-off days, saving you even more. The variety is much greater than shopping for new. You can find vintage furniture that has many years left in it, and will be different than anything in your friend's homes. You can find the priciest furniture and appliances dead cheap.
A woman I know has a very beautiful home, impeccably decorated. It looks like she spent a boat-load of cash on it. Recently I asked her where she bought her beautiful new couch. Well, she told me that she got it, and almost every piece of furniture in her house, for free! She knows the garbage day for every ritzy neighborhood in the area, and drives through regularly. She decorates her own home, gives pieces to family members, and even sells things to make a pretty good nest egg. I loved her enormous, energy efficient refrigerator, and thought I could never afford it. Hah! She bought it from a used appliance dealer and paid $225. She puts the money she saves in the bank and takes some really nice vacations with it.
Her home, my home - decorated from the trash and from thrift shops. The furniture is good and solid, attractive and comfy, and we saved an awful lot of money. If you shop around, check on line, and learn a few garbage routes, you too can save a lot of money.

By Free2B from North Royalton, OH
Do you have a frugal story to share with the ThriftyFun community? Submit your essay here: http://www.thriftyfun.com/post_myfrugallife.ldml