August 2, 2010
0

found this helpful
You can also put a lenth of 2 by 4 covered with felt or just plain for a little "step". Good Luck!
August 2, 2010
0

found this helpful
I bought the bins with wheels that slide under the bed for storage. They are only about 6 inches high. Remove the wheels and they make great large sized litter boxes.
August 3, 2010
0

found this helpful
Why not just buy a regular litter box? You may end up paying the same for what you are on a search for. You are also more then likely using a lot of gas searching for a perfect storage container.
Typically, when purchasing a litter box, it comes with a scoop which you will need as well. Check out the clearance areas of a PetSmart or any pet store chain, also give the local dollar stores a shot!.
August 3, 2010
0

found this helpful
Another note for you, if you cut the plastic, you will have a rough edge and the cat may cut herself on the cut plastic. Or, you may cut yourself in doing it. Is it worth it?
August 3, 2010
0

found this helpful
As I said on your previously posted question, you can find them at stores like Target, Wal-Mart, etc and they look similar to the picture showing here. They do indeed have large ones that are about 8 inches high and any cat, including my short legged Rachel, easily hops in and out of hers.
If the problem is that you don't want to drive around looking for them why don't you just telephone your local stores and ask them to look, while you're on hold, and find out what they have on their shelves close to the dimensions you are looking for?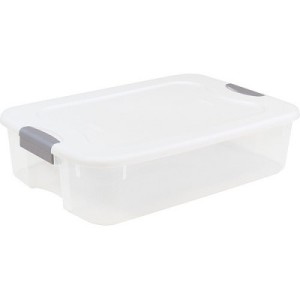 August 3, 2010
0

found this helpful
I use very large totes, 21 gallons I think they are. I use them because I have a Maine Coon and no commercial litter box was big enough or high enough to contain the litter. My husband cut a "U" shaped opening on one end with a saws-all. I went over the edges with a metal file, but really, cats have a lot of fur (unless they are the hairless variety) and if they can take one another's claws, they can handle this!
August 15, 2010
0

found this helpful
We use the type shown in the posted picture for our five indoor cats, (all declawed, spayed and neutered). It is 11 inches tall. We purchased a plastic step-stool at Walmart and they jump on it to get in and out. Works wonderfully!
May 20, 2011
0

found this helpful
I have several clear storage boxes I bought at Walmart that are 16x22x6. My cats easily climb over the edge which is high enough to keep the litter from getting out. No need to cut anything away.