For as long as I can remember, my mother would have to scrimp to make ends meet. She divorced my father when I was in first grade, so was now home with 3 children, aged 6 and under.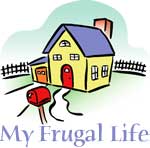 We had lots of hand me down and thrift store clothes and toys, but rarely anything new. I know we had food stamps and medical coupons when I was in grade school, free school lunches too. There was never extra money for anything beyond the basics. Even going out for fast food was a treat.
Mom worked hard, sometimes nights and weekends. She always seemed to be jumping from one job to another, trying to make money and still take care of 3 (later 4) young children. She tried her hand at many types of jobs: key punch operator, tax accountant, secretary, etc. She was a talented musician but never got more than a few gigs.
She was a wonderful artist and craftsperson, selling her work at juried craft shows all over the Pacific NW. She never made much more than the entrance fees and labor. She was forever trying to find a way that she could work for herself, not "the man".
As a kid, it didn't seem too bad. We would regularly go to the library; first to check out books, then to check out the video player and watch VHS movies in the AV room. I don't think my mom got a VCR until 1990 or so. Of course, we also would watch TV, but it was different from today. We got up on Saturdays to watch Saturday morning cartoons, because they simply weren't on any other time. You had a couple of hours of kid programming and if you missed it, you missed it.
My stepsister would come over on the weekends so we would have even numbers of boy vs girl. We would all play together: tag, hide and seek and other more exotic variants of other outdoor games. My siblings and I would ride our bikes around the neighborhood or walk to the nearest mall. Mom would take us to visit friends and relatives often and they would visit us. Every visit meant new kids to play with or new stories to hear.
Often we would have long term visitors; for a week, or a month or a season. Sometimes they were family or close friends, but sometimes they were just chance met acquaintances who needed a place to stay while they got back on their feet or went on their next adventure. Mom was always generous with whatever she had; money, time, a hug or a kind word. Everyone loved her and many returned the generosity.
Still, it gets harder and harder to be poor as you get older in school, especially for a girl in the fashion conscious 80's. I wanted to have the salon perm and the International News sweatshirt and the Guess jeans. I remember that my brothers had paper routes for spending money. I started babysitting as soon as I was old enough. My baby sister is 13 years younger than me so I had lots of practice. As soon as I turned 16, I got a job at McDonalds, where I also learned how NOT to eat. I was working 30 or so hours a week, plus high school. I spent everything I made on clothes.
After I graduated and moved out, I steadily grew used to regular paychecks and grown up life. Being young and single, I made unwise money choices; buying what I wanted when I wanted it. As I went to college, I started using credit cards. I would shower my mom and siblings with birthday and Christmas presents, money I didn't necessarily have. Later, I started learning about the joys of compound interest, bank overdraft fees and late charges. It was a rude awakening for my husband and I. Poor man, he inherited some of my bills when we married.
After the birth of my first son, money troubles began to ramp up. What worked for a young couple didn't work at all for a family. With my mom as a model, I started to practice those frugal techniques that kept us afloat in my childhood. We stopped using credit cards for frivolous purchases. I stopped bouncing checks every month by keeping a buffer in savings.
I set up auto payments so I wouldn't forget to mail the bills. I watched for sales, bought in bulk and generally made do with what I had. We still spent too much eating out and on new toys for ourselves or the baby, but we were more aware of it.
When I became pregnant with my second child, we were able to buy our first house. This, in my opinion, was the best decision to date. Our mortgage payment is comparable to what rent on a 3 bedroom apartment in our area would be, we can write off all the interest from the mortgage on our taxes, and we can even get loans on the equity and write off that interest too! It isn't without risk, we have replaced windows, flooring and done substantial drainage work. But, for us, it has been well worth it.
I would love to say that I have no debt today, that I always pay everything in cash and reuse everything possible. But I don't. I love to buy pretty things for my home, I have a slight bookstore addiction and I still love to give gifts. Sometimes, I reach for that credit card when I really know better. I throw away baggies and tinfoil after they are used! But I try. Every day, I do a little better keeping the balance of saving money and being frugal with the fun of exuberant spending and self gratification.
Being a part of ThriftyFun keeps me frugal, even when I feel a little more flush. It is harder to justify that morning latte when I know I can just make a pot of coffee at a fraction of the cost. And it reminds me of an appreciation that I learned from my mother at an early age, the ability to see beauty and potential everywhere.
Thanks to all for being a part of ThriftyFun. It is a wonderful community and I'm honored to be involved with it. As my mother has passed away and can no longer give me advice on varied subjects, I can always turn to ThriftyFun for the advice I wish I could still ask her. Sometimes I even see a post by her and it is like she is talking right to me :)
Do you have a frugal story to share with the ThriftyFun community? Submit your essay here: http://www.thriftyfun.com/post_myfrugallife.ldml