March 8, 2007
0

found this helpful
Kim,
Freestanding might be problematic because any kind of curtain/screen is going to catch the wind and want to tip over.
If you need something temporary - you can try what i did to create a privacy screen from our road/driveway - I pounded metal fence stakes into the ground, then screwed one panel of a stockade fence to it. I hung some plant brackets and a bird feeder off it to make it more friendly, then pulled it all up and stored it in the garage for the winter.

March 9, 2007
0

found this helpful
I just got an arched trellis from www.harrietcarter.com for 16 dollars! You could then hang anything from it to block the view. This can also be easily removed. One thing you could hang from it is to hang like a bamboo mat on the back side of it and then plants on the front - the side you would be looking at.
Its 7 feet tall and about 5 feet wide! (smile) I love it so much I want to get some more lol - I havent put it outside yet so its here in the liv rm. Here's a picture of part of it - cant get it all in one pic from my webcam lol.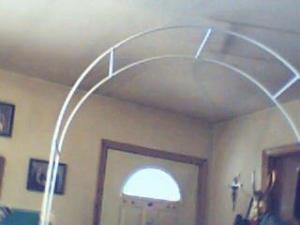 By (Guest Post)
March 9, 2007
0

found this helpful
Why not a lattice panel? They are decorative. They provide a sense of privacy. We found out the hard way that morning glory vines can be very good for coverage,privacy, over running.....lol
You could use the lattice panel as a back drop and hang plants.. bird feeders..whatever your heart desires.

March 10, 2007
0

found this helpful
Hi Kim,
When I want alittle privacy in my yard, I wash a quilt or some towels and hang them on my clothes line!
It works everytime.. hagd
Anne from Pa
By Beth Avedis (Guest Post)
January 13, 2008
0

found this helpful
If you have a porch, you can get curtain rods and hang them from the top. Crate and Barrel has some outdoor curtains but they're pricey. I saw instructions on how to make them in a book I saw at Home Depot.
It was a complete book on windowcoverings. I think it was Better Homes and Gardens
By Deborah (Guest Post)
February 13, 2008
0

found this helpful
I like the outdoor curtains but they are too pricey. I found some very nice upscale shower curtains that worked just great for a fraction of the cost.