September 3, 2009
0

found this helpful
A good idea to help hold their pose long enough to get a good pic using a digital camera. I've missed some good takes because my dogs moved before I could get a good angle on them.
Your buff colored cocker looks just like my Mocha who died three years ago. The parti cocker is cute too as is the lab.
September 5, 2009
0

found this helpful
Great tip and great pic! 3 cutie pies
September 5, 2009
0

found this helpful
Great idea, great picture,cute dogs!
September 24, 2009
0

found this helpful
Catch them with candid shots and get down to their level--this one is our gal Hannah (relaxing after hiding behind my Mexican petunia bed).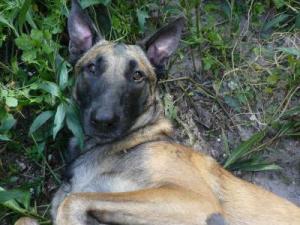 January 5, 2013
0

found this helpful
I love photgraphy and dogs. All my dogs have been raised with me taking their pictures and will hold a poise if I tell them to stay.
The attached picture is of my beloved Parker who was a 135 pound, Black Lab / Rottweiler and definitely a momma's boy.
Parker was asleep in the Living Room and I layed on my stomach to take this picture. I try to catch my dogs being dogs and have some awesome pictures. One of my favorite tricks is to drop a piece of Hot Dog on the floor in front of them and tell them no.
Their eyes never leave my face as they wait for the "Okay" command to get their treat. The depth of their stare as they wait for the command is unreal.
I think your photograph is very nice and speaks volumes about who you are as a dog lover. Good for you!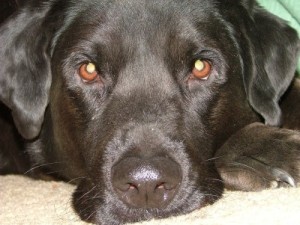 January 6, 2013
0

found this helpful
I'm disabled so I do spend a lot of time with my dogs and always have my compact digital camera in my pocket or within arm's reach.
With dogs, you never know what they're going to do and I watch for the unusual shots that practically tell there own story. When you come right down to it, I guess it really amounts to being in the right place at the right time. I love shooting my dogs just being dogs. It's sort of silly but some of the best pictures I've ever taken were unplanned and stubled across.