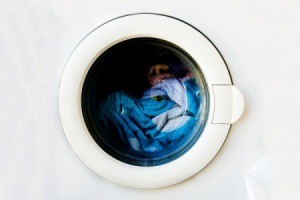 My wife just bought a new washer and dryer. There was a sticker on the front of the washer on the glass. I used Goof Off and it caused a caustic-looking streak. What can I use to take this streak off the glass (plastic)? Please help!
Salvatore
Answers

March 18, 2009
0

found this helpful
Best Answer
The glass is really plastic and using chemicals to remove stuck on tags do smear the plastic. You may try an very fine abrasive such as jewelers rouge. Anything coarser such as tooth paste will scratch the plastic. It will be labor intensive and may not look as good as new. You could also try liquid plastic polishes available at automotive stores. I think the best and easier bet is to either replace the plastic window or just live with it.

March 19, 2009
0

found this helpful
Best Answer
First be sure the sticker goo is all gone. Vegetable oil on a soft cloth is a safe method. (Dispose of cloth safely afterwards, as it can spontaneously catch fire.)
If the plastic still looks mutilated, Novus Plastic Polish is far and away the best brand I've seen (Google for sources near you). It comes in multiple coarseness, the most coarse being used first and followed up by finer formulations. All with lots of elbow grease. The plastic will look virtually original after using Novus. Don't sweat it too much, though. The plastic will accumulate lots of scratches and dings with normal use.

March 25, 2009
0

found this helpful
A good Auto Parts store may have Maguiar's Plastic Cleaner/Polish. I've used it to remove scratches from sunglasses, watch faces, etc. Using soft cotton cloth and just a little elbow grease.
meguiarsdirect.com/.../MEG+G12310

June 27, 2013
0

found this helpful
I just did the same thing yesterday and I now have a haze on my new washer door. There was a price tag on the door that I took off and I used goof off to try to get it off
October 31, 2016
0

found this helpful
Didn't think it possible someone else did the exact same thing as I did; messed up brand new washer window with Good Off. Ugh! Emailed manufacturer for a replacement but figure it's going to be $$$! Sounds like a good plastic polishing compound is the only way to repair?

July 22, 2018
0

found this helpful
I used goof off attempting to clean a much used & greasy office black microwave doir. It now looks like a white tornado shown on the weather channel. A website suggested I try lemon juice or vinegar....a failure.
I resorted to applying more goof off to hopefully improve the appearance. My next effort will be Novus Plastic Cleaner which I ordered today with my fingers crossed. I will let you know the results.

January 10, 2019
0

found this helpful
I wish I could hug the person who posted to try Vegetable Oil because it WORKED!!!!! I thought I was going to end up ordering a new door, it looked so bad - and I ordered the plastic cleaner - but the Vegetable Oil completely solved the problem!

November 18, 2021
0

found this helpful
I have the same problem did the Novus work for you
Answer

this Question