July 19, 2007
0

found this helpful
I have seen this done on several diy programs but I found this for you and I hope it helps. If you follow the directions on this site I would use a glaze with a sealer so you can wash off spots or soil when needed.I hope this helps you.
July 19, 2007
0

found this helpful
I know this would be a lot more work but it would look super expensive decorator fantastic! Make handmade paper with the brown bags first, then use it for wallpaper! You can get books at the library on how to make paper.
By guest (Guest Post)
July 23, 2007
0

found this helpful
I did my kitchen floor with brown bags. When finished with gluing on and drying I then used polyurethane on it . Can be mopped , and looks great.
July 25, 2007
0

found this helpful
Hello,
If you visit the following link, you can find a lengthy
conversation I pretty much had by myself while learning
about Brownbagging:
http://davesgar … forums/t/745742/
I've learned so much from Bonnye Manning of
Brownbagwalls.com
If you can't view the thread, let me know and I will
be happy to post the information here. Brown
bagging the walls is easy, cheap and fun!
Karen Marie
08-10-2007. Edit to include the address of a
webpage I have since created to help others
achieve the brownbagging look on walls:
http://www.wuvi … rownbagwalls.htm

July 31, 2007
0

found this helpful
My daughter-in-law is quite the seamstress. When my son added on to their house,he made her a sewing room over the garage(still attached to the house) Any way, she used old pattern peices and instructions to cover the floor. Then she used polyurithane to seal it. It turned out great!(sew imaginative) Judy in Alabama
By guest (Guest Post)
August 14, 2007
0

found this helpful
I covered the walls in our family room over 4 years ago and I still get tons of compliments on it. I used regular Elmer's glue (can buy in the gallon-size at craft store or teacher's supply store) and mixed it with water (1 part glue to 1 part water). Mix thoroughly. Use torn pieces of brown paper (if pieces were bigger than 10-12" square they were harder to deal with). Using a regular paint brush, brush the glue mixture directly on the wall. Place the piece of brown paper over that spot and then brush over it with the glue mixture. The paper will crinkle a little as it dries, any spots that come "up" can be fixed with a brush of the glue mixture later. I didn't prep my wall at all (other than wiping all the cobwebs off first!) Good luck!
November 14, 2007
0

found this helpful
My home is very old and has numerous cracks in the walls that I cannot keep repaired. This was a wonderful way to camoflauge the cracks and looks great. See pic of my new bedroom walls. I did brown and green with contractor paper bought at Home Depot in the paint section. Very inexpensive at $3.97 a roll and took 2 rolls to do the entire 12 x 13 room.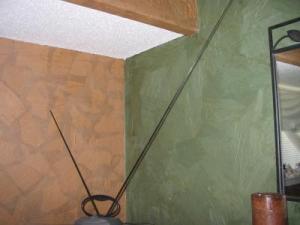 By guest (Guest Post)
March 13, 2008
0

found this helpful
Can this technique be used on a ceiling?
By guest (Guest Post)
January 16, 2009
0

found this helpful
I have a large family room and kitchen combo with wallpaper. Can I paste the brown bags to the existing wallpaper or do I have to strip the wallpaper? My thinking is if I ever wanted to remove the brown paper I could steam it off since it would be over my old wallpaper. I'm planning to paint over the brown bags with a lighter color or a light faux finish.
By guest (Guest Post)
January 26, 2009
0

found this helpful
Update to the site. Have since done quite a bit of the floor. Roll Draw Tite on the floor, book contractor's paper with Roman's Golden Harvest GH-34, apply to floor and immediately cover with polyurethane. Let dry, apply another coat of poly. When dry, add more poly. A few coats later and your floor is FAB.
If you like the look of the walls, you will love the floor. The poly makes the mottling even darker. Don't fret. The first coat may look funny, but after the second coat of poly, you begin to see the wow factor.
:-) KM
February 22, 2009
0

found this helpful
(Submitted via email)
---------
Re your question about using wallpaper paste for brown bag walls. I am currently doing my bathroom, which has vinyl wallpaper. I did a test with regular wallpaper paste but it didn't stick. I called around and found Vinyl Over Vinyl wallpaper paste at Sherwin Williams. It is sticking very well. It was $24 for a gallon. Darlene