Make your guests a real star by marking their glass with this easy removable star. A free stencil for etching your holiday glasses.
After using the stars to seal my tri-fold Christmas letter this year I was left with this wonderful stencil perfect for something. With a little playing I came up with a couple of ideas.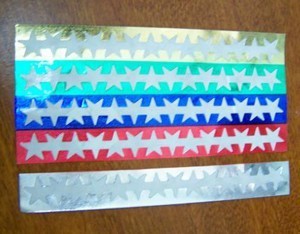 To etch your glasses, go by the directions on your etching cream using the pattern created by removing the stars as a stencil. The backing is removable so if you don't get it on straight you can adjust it. If one strip isn't enough to reach, you have more waiting to be used.
The backing could also be used to decorate kids book covers, greeting cards, any number of things come to mind.
Decorate the glasses with the stars to start with perhaps, since they come off of the glasses it is easy cleanup.
I originally got them to mark items for my garage sale, the colors depicted different prices and I had a big poster on the wall showing which was which. I admit it didn't work on clothing but for dishes and such it was great. Saved a lot of writing. We just pulled the star and put it in a notebook for bookkeeping later.