July 29, 2008
0

found this helpful
Best Answer
They could hold sets of necklaces and earrings. business cards, or small stickers, or gift tags.

July 30, 2008
0

found this helpful
Best Answer
Keep mini card decks in them for bored kids. Keep a mini pen and some note pads in them. You can keep artificial sweeteners, salt/pepper, matches, q-tips, a mini-sewing kit, bandaides, negitives/slides that need to be processed.
Keep antacids, meds, a mini-calculator, batteries, or just about anything that you can fit that needs to stay clean and helps keep you organized.

April 9, 2018
0

found this helpful
Also turn it upside down and let your phone charge in it. Even those with the charger port on the bottom will work when you turn it sideways.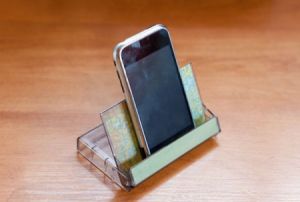 July 29, 2008
0

found this helpful
flickr.com/.../?q=cassette%20tape&w=all
flickr.com/.../?w=all&q=cassette+tape+craft&m=text
this is one of my favorites :
www.inhabitat.com/.../
another cassette tape wallet : blog.craftzine.com/.../cassette_tape_wallet.html
www.google.com/cse?cx=008032414425079535247%3Akplxrakvu20...
here's a belt buckle
tbn0.google.com/.../cassette_belt01.jpg
here's some good ideas too : www.designboom.com/.../cassettes.html
Ram's head made from cassette tapes
www.boingboing.net/.../rams-head-made-from.html
Skull Made from Melted Rawk Cassette Tapes tp://gadgets.boingboing.net/2007/09/06/skull-made-from-melt.html
cassette tape book : flickr.com/.../
I was looking for a really unique shoulderbag made of the whole cassette (box included) whereas lots of crafts can be knitted or crocheted from the tape inside.
Check back to this topic later - if I can find it I will post it.