September 8, 2009
0

found this helpful
I love him too, just from his picture, I think of them as little wiggle butts! They are so loving and sweet!
September 8, 2009
0

found this helpful
I have 2 pits. They are also very friendly and protective. Pits have really gotten a bad rep because of the people that fight them.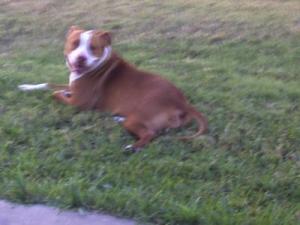 September 9, 2009
0

found this helpful
He doesn't look mean, just focused. I live with two "pibbles" and they are both a couple of clowns and very loving.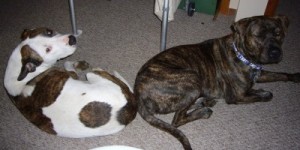 September 9, 2009
0

found this helpful
I agree. Pits get a bad rap from those who are not educated about them. Any dog can be mean if you train them that way. I think your guy looks very intellectual.
September 9, 2009
0

found this helpful
My parents had a pitbull and when they passed on I took her. She was wonderful. She lived until she was almost 13 years old. She was protective but intelligent and gentle. It is sad that they get a bad rap because of the poor excuse of owners. If they are loved and showed discipline, like other pets and children :-) they usually grow up wonderful. It is sad how insurance companies turn people away because they own a 'pitbull'.
I owned a little dog and he sometimes had a nasty attitude but his 'breed' was not in the vicious group so his bad days were acceptable, except to me so I am glad he only had them a few days. Love Tyson and he will always be loyal and loving and playful pooch. My dog, Dena, loved old socks. We took old tube socks, put about three inside each other and then stuffed them with other socks. She even slept with them. Thank you for loving Tyson!
September 9, 2009
0

found this helpful
The best dog I ever had was a female pitbull. My grandkids played with her, rode on her back, pulled her tail, just about anything a small child will do. She was always gentle and loving with them.
But the minute someone pulled into my driveway, I knew immediately because she would bark until I told her it was OK.
One day my boyfriend ( who she loved a lot) and I were fooling around; ( not that way!) we were rough-housing and I screamed. Well, she went after him and knocked him to the floor!! Again I had to tell her it was OK. Guess she knew who the boss was! Would not hesitate to get another pit.
September 10, 2009
0

found this helpful
I had two pit bulls, father and son. The father passed away from a liver disease and the son was stolen. They were great pets, loving and loyal. I still miss them. Take good care of Tyson and love him, you will be rewarded.