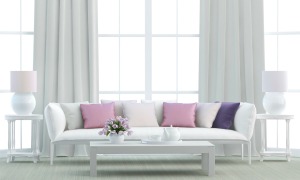 I have a front room that is 12' long and 7' wide. The windows on the front 12' wall of the house take up the top half of the wall. I have no idea how to decorate this space, any ideas that would be efficient and cheap? Even just coming up with a layout for some chairs and what to hang on the walls would be a great help. Thanks.
By emily from Erlanger, KY
Answers

Joan
Bronze Feedback Medal for All Time! 186 Feedbacks
May 31, 2009
0

found this helpful
You really don't have any choice but to put the couch under the window. Myself, I have no problem with putting furniture in front of a window, if you have to, but I know decorators do have that problem. My thought is, do as you like, and can afford. If you can afford it,maybe instead of a couch use a love seat and couple chairs. I would forget about having a coffee table. But then as I get older, I have decided they would be a good thing to trip over.

Cyinda
Bronze Post Medal for All Time! 213 Posts
May 31, 2009
0

found this helpful
My idea is to buy some pleated window shades, the kind that go up & down (these dust themselves when you raise & lower them). Pick out a color that you like. (maybe beige) then have their color matched in paint for the walls. When the matching Verosol pleated shades are closed they will make the room look larger & less "broken up". Over the pleated shades you can also hang criss-cross lace, transparent curtains (if you like the Victorian or 1930's look) or use a solid color fabric. Or for a more modern or tranquil look, hang no curtains, just use the pleated shades.
As far as furniture, You can also put the couch across from the window, facing it. OR use 2 love seats facing each other each one facing the long end of the room (not facing the window, or a love seat & 2 chairs facing it with a small coffee table between. This seating would make the room look less "long".
Across from the large window(s) you could hang 3 or 4 prints of matching botanicals. These can be purchased cheaply at places like Ross or Target already framed & matted. Mark off your "living area" with a matching area rug. Rugs can also be hung on the wall as "tapestries". Rugs on walls work great in a tall, long or large room. If you like traditional decor, choose a "Persian" type rug. if you like a more modern decor, choose a geometric rug. With botanical prints, a rug with different leaves would be cool! For lighting, I like those pole lights that have a round end table attached. These take up little space & serve many functions. In a far corner of the room buy a silk tree from a second hand store & place an "up" light under it ($10 for the light at home depot). This will throw interesting shadows on the walls & ceiling!
As far as decorating colors. For a soothing room, stick to earth shades. Like the colors of wood, rocks, grass, leaves & water. Say for example for main colors you might choose golden-beige or gray-beige with an accent of olive green or sea-blue. The colors of nature are soothing & you can't go wrong with them. Bright colors are much harder to decorate around. Go to the library & check out a bunch of copies of home decor magazines. These will give you lots of ideas!

March 28, 2010
0

found this helpful
I would pull the furniture into the center and anchor it with a large area rug. Simple silk panels hung on big rods with clip on rings make nice window treatments. A large round decorative clock would look good above the fireplace. Put a large nicely framed mirror above the bombay chest in the lower left corner of the room and some sort of collection on the other side of the window (lower right side of the room). I have a collection of crosses grouped together, but anything you like grouped together will work. Hang tall/narrow framed artwork on the left and right of the entrance to the dining room and remember to hang all your art at eye level (not too high).
Pick two or three contrasting colors to use in the room. I like warm autumn colors like chocolate brown, paprika or pumpkin, sage green and harvest gold. I love to use fringed throws, decorative accent pillows, large black wrought iron candlesticks and colorful candles, urns, long necked glass bottles, bowl of decorative balls, unique lamps and oil paintings. All these things things are good garage sale finds and they give the room an old world eclectic (collected over time) feel. Other good reasonably priced sources are Ebay Big Lots, Luxury Linens, Ross, Kirklands, Hobby Lobby, TJ Max, Marshalls and Walmart. Use a variety of textures and patterns. Think comfort and luxury. Have fun!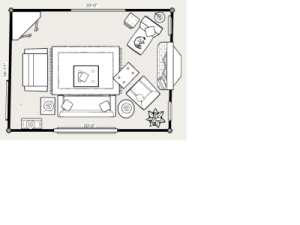 Answer

this Question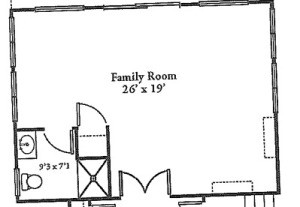 We just bought a house and there is a big family room (26x19). The room opens up with French doors, on your left hand side there is a door for a small closet, behind that closet there is a bathroom. On the right hand side, at the corner, there are two floor to ceiling shelves. We are planning on removing one of them to place the TV.
The rest of the room is full of windows with minimum or no wall space. At the other end of the room, there are two big windows on each side and French doors in the middle that lead you to an outside porch and then the garden.
I'm planning on getting an L-shaped sectional sofa to place facing the TV (giving the back to the backyard), anchor it with a rug and have a big square cushion ottoman in front of the sectional. I don't know what to do with the rest of the space, I'm thinking I could have some kind of a table to play board games with the kids or another seating area that faces the garden outside. I'm looking forward to hearing your ideas. Thank you!
By Caplina
Answers

Judy
Gold Post Medal for All Time! 677 Posts
June 8, 2018
0

found this helpful
You can arrange your furniture as you wish. Just make sure you have access to the windows to open or close them. Make sure the furniture is far enough from the window so you can go behind it
Answer

this Question