By Krystal (Guest Post)
October 10, 2008
0

found this helpful
If your walls are painted in the tans and browns, use the couch as your contrast focal point. You can make small pillows in animal prints, like leopard and cheetah, for the couch. Since this might make your room seem a little dark, if you want you can use a very light weight window treatment, maybe a very light tan cotton for curtains. Personally, I prefer darker rooms, it lets me relax more. You can also use unique lamps with tan shades to pull every thing together too.
October 14, 2008
0

found this helpful
I have a denim navy blue sofa and brown leather recliner. I wanted to use cow prints to give it a western feel, and I wanted to add a pop of color but wasn't sure how to put it all together. I started by going to my closet and finding clothes that resembled the fabrics I had, then I added other items as if I were putting together an outfit.
After I had my outfit together I took it to the living room and made sure it went with the flooring and walls. It worked. I'm no decorator, but I dress everyday. I went and bought additional items from my palette and I love the outcome. Good luck with your project.
October 15, 2008
0

found this helpful
Navy and brown go very well together.
October 15, 2008
0

found this helpful
If you love tans and have a navy couch, you are two thirds to Americana! I would pull it all together with a burgandy afghan and pillows. See how my little bear looks nice her three colors?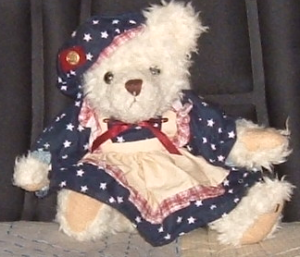 By AuntyC (Guest Post)
October 15, 2008
0

found this helpful
I know you can dye leather shoes, etc. I doubt you can dye lighter, but navy to black is very possible.
There is also spray paint for vinyl... also a possibility. Good luck, and if you decide you don't want the couch, I'll take it.