I am the child of parents who grew up on farms. My father lived through the depression in Saskatchewan and times were very tough. Dad told us that a turnip was a treat like an apple was to us.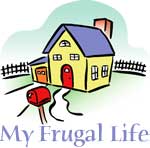 Mom lived in Alberta, as did Dad when his family left Saskatchewan due to the rough times. They met and married in their twenties. This is when I learned frugality, they shopped with an eye for quality and an eye on the price tag. My Mom and Dad would shop and I would go with them occasionally and watch the ounces being counted and the price per ounce or pound. Dad would buy a half round of cheddar cheese from the dairy.
As we got a little bit older, my sister and I would go over to our new property where Dad was building a prefabricated house. Every day, we would pick raspberries for Mom and also sold rhubarb to people who came by as somehow our name got around about our delightful rhubarb. I was working at the Coop doing the dividends for the year and, of course, babysitting lots of children all over town.
My Mom had tea parties and when I got home, my sister and I were made to feel welcome to visit with Mom's friends, both her age and seniors. There again, I learned so much about people's frugal lives. All so different and from all over! Plain dainty little sandwiches and homemade rolls. A damp tea towel was placed over the sandwiches.
When I was heading into Grade Twelve, we moved to Southwestern BC and I finished school and married a soldier. He got his education through the military. He joined the Military Apprentices at 16. He had grown up up very poor in Manitoba and his Dad died when he was seven so he had to be the man of the house. Between the two of us, we really stretched our our money which was very scarce. For some reason, we never felt poor. We had two children over four years and got a very low interest $500 loan the second year we were married. We also managed to get a phone. The money bought all of our furniture. When we were married nearly three years, my Dad found us a 1956 maroon and white Chevrolet. It was $400.
We always did well and life was good to us. I hope that our children and grandchildren will learn from those who are willing to help them too.
Beviejo from Chillliwack, BC
Do you have a frugal story to share with the ThriftyFun community? Submit your essay here: http://www.thriftyfun.com/post_myfrugallife.ldml