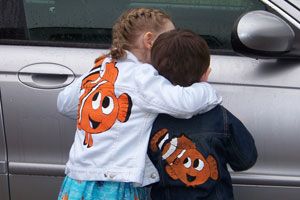 I need some tips for painting on denim. My stepdaughter painted some jackets for her son and my daughter. My daughter's jacket turned out great but her son's jacket didn't cover as well. It was a dark denim. She put several coats of orange paint but it looks as if she only did a half of a coat! The white paint covered fine but not the orange. What are the best paints? Is there a 'base' coat to use?
Brenda from West Virginia
Answers

SL Edens
Bronze Feedback Medal for All Time! 139 Feedbacks
February 25, 2008
0

found this helpful
Best Answer
When painting on dark fabric, it's a good idea to put a white coat on before adding the colors (in this case orange). The white can then allow the orange to look bright. Those are darling jackets. Your stepdaughter did a good job!!!

February 25, 2008
0

found this helpful
Best Answer
I agree about the white paint. Also, she may or may not be aware; but you can buy a product called "textile medium" or "fabric medium" in the acrylic paint aisle at the store. When mixed with the paint, it improves the paint's ability to adhere to the fabric fibers and keeps the dried paint softer (and less stiff) when dry.
The jackets are adorable! She did a wonderful job! But now she is going to have to stop feeding the kids so they won't outgrow them! (Just kidding!)

February 27, 2008
0

found this helpful
Best Answer
Another thing that can affect whether the paint adheres is if you washed and dried the clothing with fabric softener before hand. Wash and dry, but DO NOT USE FABRIC SOFTENER. Otherwise I agree with the others, add fabric medium to regular craft paint or if you want to do more fabric painting, invest in paint that is actually made to use on fabric, ie Tulip or Decoart. The idea of basecoating with white is also an excellent one.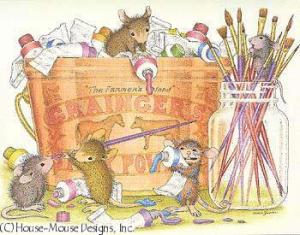 By donna (Guest Post)
February 27, 2008
0

found this helpful
Best Answer
If you want bright full color on a dark denim or any dark fabric you need to put a silver paint neatly into the area that will be painted with light bright color. The silver is a very effective color block to paint over. Use fabric paints or add fabric additive in acrylic paints to keep a soft feel in the garment.
Straight acrylic paints make a garment stiff where I have painted. There is a cover white paint sold also that blocks the dark undertones. Hope this helps you. Let the undercoat of paint dry before adding the final color.

October 24, 2009
0

found this helpful
Best Answer
Important: Use Rubber Cement for your base coat before you start painting to keep the fabric pliable. Tried and tested method that works. otherwise you will wind up with a surface that will be hard and will crack over time.
Acrylic will adhere to the Rubber Cement well. Do NOT use GESSO or white house paint for a base coat. Do not use oil paint. Fabric paint is garbage as you can't mix colors and get good secondary colors. Hopefully it goes without saying you let the rubber cement dry first, before starting to paint.
Answer

this Question

I've been wanting to paint on this denim jacket I had gotten awhile ago. While I'm making the design I was wondering where I can paint on the jacket so that the paint doesn't wear down quickly.
Can I paint on the cuffs? Or will the rub off too quickly, same for things like the collar, I don't know where the best places to paint are so that the paint doesn't come off.
Answers

Pghgirl40
Bronze Feedback Medal for All Time! 196 Feedbacks
November 29, 2019
0

found this helpful
Best Answer
I used to do a lot of work on denim jackets when I was young.
The best places to paint (or embroider) is the chest area--leave at least 2 inches around the closure so it does not wear, the center of the back, the collars, and the upper arms.
The worst places are the cuffs, elbows of sleeves, and hem.
I found that painting with fabric paints (buy the best you can afford) and then embroidering around the paint worked well. Later I gave up painting and just did embroidery, which I understand is back in style again!!
Be sure to wash inside out on delicate with cold water after any handiwork. Ideally hand wash, but they get super heavy and sometimes that is hard to do!
Happy decorating!!!

poehere
Bronze Post Medal for All Time! 105 Posts
November 29, 2019
0

found this helpful
Best Answer
There are specially designed paints to paint on fabrics that will last a long time and not wear off. Some good places to paint on jackets are the pockets, collar, or even the front panel.
The back of the jacket is also a good place to paint a design on.
Answer

this Question

I am currently painting a denim jacket with black acrylic paint. But for some reason, it became stiff, so I soaked it in some warm water and I'm letting it dry outside. What should I do?
Answers

Pghgirl40
Bronze Feedback Medal for All Time! 196 Feedbacks
May 26, 2021
1

found this helpful
Best Answer
Are you talking like a house paint not one designed specifically for fabric? If it is house paint, there is no solution. That is what it does on fabric. You can try to use rubbing alcohol to get the paint off (put a towel behind the paint so the black will not bleed through. Pour the rubbing alcohol on the paint and try to gently scrape it up.
Most likely--especially with black--it will leave a stain, but it will be softer.
If it is fabric paint then I would call the maker to see what solutions they have. Every brand has their own ideas because they know the chemical make up of their product.
Answer

this Question

I painted a jean jacket using plain acrylic paints. However, I want to wear it out without it getting wrecked (by rain, or cracking, etc.).
Is there something I can spray on top of it or any idea of what I can do?
Answers

Judy
Gold Post Medal for All Time! 677 Posts
May 18, 2018
0

found this helpful
You can use a. Scotchgard type protector. It comes in a can.

Hello
Bronze Post Medal for All Time! 107 Posts
May 19, 2018
0

found this helpful
I'm not sure you can avoid it cracking if you used plain old acrylic paint (as opposed to fabric paints) because acrylics become brittle and will either crack or peel off as you wear it, wrinkle it, etc. The only thing that you can do to prevent that is to never wear it or put some polymer varnish that will make the jacket so stiff it can't be worn easily
As well, in my experience acrylics are pretty colorfast, less liable to fade with light, unless they're exposed to light and heat for hours. But if you can manage it without making the jacket unwearable, you can find instructions on applying a varnish here createlet.com/.../
Interestingly enough, oil paints are better on something like denim, or fabric paint designed to dry and remain flexible www.joann.com/.../xprd77589.html#start=1

May 19, 2018
0

found this helpful
it would probably have worked better if you had used a fabric medium with your paint but others seem to work with acrylics with and without using the medium.
One of my daughters paints designs on jeans and the paint design will last through several washings before it starts to fade. She will sometimes touch-up faded areas.
She does use fabric medium with her acrylics but did say one of the most important things to remember is to "heat set" the garment after paint is dry if you do not use the fabric medium.
This is information my daughter sent but she also said that you may need to cover the design with fabric and constantly move the iron while drying the cloths.
Work in a well ventilated area have handy your iron on dry and lots of clean white cloths, on the idea of handkerchiefs, batiste, muslin, whatever.
Dip your square of cloth into pure white vinegar. Wring out. Place on the right side of your fabric. Press in a lifting motion until bone dry. If paint has transmitted to your pressing cloth, use a new one for the next pressing.
Here is a site that has good instructions for this process.
I have had good luck when washing a garment with a painted design by placing it over the back of a patio chair (either outside or on a patio) and spraying the underarms and inside area with 2 tablespoons dawn dish soap mixed with water in a spray bottle. Let set for 30 minutes and then use hose sprayer to rinse the garment.
It will take quite a bit of water to completely rinse but I then spay with vinegar/water and rinse again.
I have even "washed" men's sport coats like this (no wool) and it usually works very well.
May 27, 2018
0

found this helpful
I painted a demin Jacket years ago and I washed it but didn't put it in the dryer. It did great. The acrylic paint wont wash out. It may peel but that depends on how thick you put the paint on.
Read More

Answers

I have been looking at painted denim clothing and want to design a jeans jacket for the Fourth of July. I am wondering what type of paint and if fabric paint is the best option? I also have tons of acrylic paint already and was wondering if I could just use that to save money and use it before it dries out.
What are some tips you would have before, during, or after finishing the product?
Answers

Judy
Gold Post Medal for All Time! 677 Posts
June 12, 2017
0

found this helpful
Fabric paint is the way to go.
June 12, 2017
0

found this helpful
Acrylic paint will wash out pretty quickly. Your best option is most definitely fabric paint!

June 12, 2017
0

found this helpful
Fabric paint is most definitely the way to go. Acrylic paint is not a good option for painting fabric because it washes off/out easily.

attosa
Diamond Post Medal for All Time! 1,246 Posts
June 13, 2017
0

found this helpful
I use fabric paint I get from Walmart and Amazon :)

June 13, 2017
2

found this helpful
Since this seems to be a new project with you, I would recommend that you do a lot of reading/research before "jumping in".
My daughter does some of this and she did hours of research before she started and then tried several ways of doing the design and painting before settling on one method. Her biggest advice (after research) is to be sure your items are very clean (never use fabric softener) and old items turn out better but if working with a new item, it is best to wash it numerous times before starting your adventure.
Be sure to work in an area where clean up is easy (this can be messy) and a place where all of your "stuff" can be left for days untouched.
You will find a lot of "do this and don't do that" in your research but then another will say just the opposite, so sometimes it may have to be trial and error. I would suggest working on 2 or 3 items of less importance before tackling a major job.
Here are a couple of comments regarding the do and don't and then the opposite: research and trial and error may be the only way.
"You can also use acrylics you buy at your craft store you just need to mix in textile medium into your paints. You can find it right next to the other bottles that you buy at your craft store. You will not get as vibrant colors as you would if you use fabric paints."
Opposite: "Acrylic with medium tends to be hard and paint like, and I do not have a single item that used acrylic that I have been happy with after a few wears."
So - best plan - research and then just have fun.
Here are some sites that we use: (Thriftyfun from the past has some very good suggestions).
www.thriftyfun.com/tf64317933.tip.html
Answer

this Question