I need some tips for painting on denim. My stepdaughter painted some jackets for her son and my daughter. My daughter's jacket turned out great but her son's jacket didn't cover as well. It was a dark denim. She put several coats of orange paint but it looks as if she only did a half of a coat! The white paint covered fine but not the orange. What are the best paints? Is there a 'base' coat to use?
Brenda from West Virginia
Answers
February 25, 2008
0

found this helpful
Best Answer
When painting on dark fabric, it's a good idea to put a white coat on before adding the colors (in this case orange). The white can then allow the orange to look bright. Those are darling jackets. Your stepdaughter did a good job!!!
February 25, 2008
0

found this helpful
Best Answer
I agree about the white paint. Also, she may or may not be aware; but you can buy a product called "textile medium" or "fabric medium" in the acrylic paint aisle at the store. When mixed with the paint, it improves the paint's ability to adhere to the fabric fibers and keeps the dried paint softer (and less stiff) when dry.
The jackets are adorable! She did a wonderful job! But now she is going to have to stop feeding the kids so they won't outgrow them! (Just kidding!)
February 27, 2008
0

found this helpful
Best Answer
Another thing that can affect whether the paint adheres is if you washed and dried the clothing with fabric softener before hand. Wash and dry, but DO NOT USE FABRIC SOFTENER. Otherwise I agree with the others, add fabric medium to regular craft paint or if you want to do more fabric painting, invest in paint that is actually made to use on fabric, ie Tulip or Decoart. The idea of basecoating with white is also an excellent one.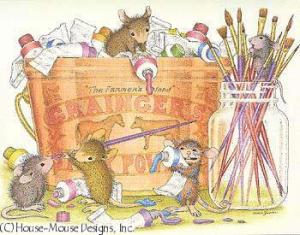 By donna (Guest Post)
February 27, 2008
0

found this helpful
Best Answer
If you want bright full color on a dark denim or any dark fabric you need to put a silver paint neatly into the area that will be painted with light bright color. The silver is a very effective color block to paint over. Use fabric paints or add fabric additive in acrylic paints to keep a soft feel in the garment.
Straight acrylic paints make a garment stiff where I have painted. There is a cover white paint sold also that blocks the dark undertones. Hope this helps you. Let the undercoat of paint dry before adding the final color.
October 24, 2009
0

found this helpful
Best Answer
Important: Use Rubber Cement for your base coat before you start painting to keep the fabric pliable. Tried and tested method that works. otherwise you will wind up with a surface that will be hard and will crack over time.
Acrylic will adhere to the Rubber Cement well. Do NOT use GESSO or white house paint for a base coat. Do not use oil paint. Fabric paint is garbage as you can't mix colors and get good secondary colors. Hopefully it goes without saying you let the rubber cement dry first, before starting to paint.
Answer

this Question

...