I went through a divorce several years ago, due to not being emotionally mature. I turned to drugs and, in a matter of 8 months, I found myself in a homeless shelter. I had lost my children, my home and myself. I was unemployable, due to not finishing school and thinking I knew it all!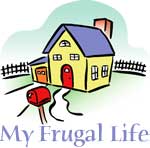 I had to relearn everything I knew and then change it to make it in this life. So I started slowly and I started paying my bills, even if it meant a letter and $5.00 dollars a month! I had to show people that I was responsible. Well, that was in 1998!
I've come a long way and the things I was taught back then I still do today, so here are a few I do: any container can be reused for something whether it be garbage or bath salts or beads or whatever, reuse it! Dinners become leftovers and go to us, the neighbors and, last but not least, the dogs. Bread is used for sandwiches, then toast, then put in freezer for garlic bread made in toaster and, last but not least, saved for the birds in winter.
Garbage can be used to start fires in our fire pit (don't use plastic), food is saved in old milk containers in fridge and put in the ground to put back in what I took out!
Clothes are bought in thrift store and yard sales and worn, then turned into rugs that I sell or give as gifts or use as material to make something else. Plastic bags are used as totes and wrappers for gifts. Junk mail is turned into beads for bracelets and necklaces. I could go on and on! I use to do all of this to save money, now I do it because it is the right thing to do. I am thankful for another chance and I show it by helping Mother Earth rather than destroying it. By the way, I also believe I've been blessed for my effort because I've learned to pass it on and I now own my property and home in full, no loans. Wow, what a blessing! Thank you for letting me share my story.
Denise from McRae, GA
Do you have a frugal story to share with the ThriftyFun community? Submit your essay here: http://www.thriftyfun.com/post_myfrugallife.ldml