To freshen the air in your home, I use perfume I purchase at the Dollar store. Some of the scents are not too bad and do a good job freshening your home. I even take a small piece of cotton and attach it to the heat vents to get the scent in each room. I attach it with a paper clip and it's not noticeable.So no ugly air freshener showing. Just clean fresh air. If your heater vents are flush with the floor, you can use a cotton ball wedged in slots.
By Donna from Foymount, Ontario

Answers:
Use Perfume to Freshen Your Home
Great Idea! (04/15/2009)

By vickie guy
Use Perfume to Freshen Your Home
I like the dollar store versions of Touch of Pink, but I like the smell of fabric softener liquid mixed with water, 4 parts water, 1 part fabric softener. I especially like the Snuggle Exhilarations line that is vanilla kiss. It smells so good. I just spray it on fabric like towels and clothes. It makes the room smell nice. I think I will fix a bouquet of fake flowers and hide a cotton ball soaked in the perfume and see if it acts as a good air freshener.
Robyn (04/15/2009)

By Robyn Fed
Use Perfume to Freshen Your Home
Great idea. I have two cats in house and even though I clean littler box regularly, I worry about animal smells in my home that I don't really smell since I am in it all time but with visitors. I buy the air fresheners and they are good but they are also expensive over time. Will try this one for sure. Thanks. (05/02/2009)
By Joan Vance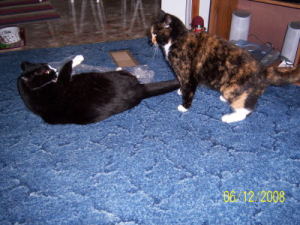 Use Perfume to Freshen Your Home
Just be aware that individuals get acclimated to a scent to the point where they are no longer aware of it, and they use more, often making the scent overpowering to visitors. (06/14/2009)

By susan
Use Perfume to Freshen Your Home
A healthier alternative to freshen the home is essential oil and water. Fill a spritzer (or spray) bottle with water and enough essential oil to your liking, shake and spray. It is fresh, and all natural, no harmful chemicals or fragrances. Mix and match the oils to make your own signature scent! (06/20/2009)
By Angie