May 5, 2010
0

found this helpful
TISSUE CARNATIONS:
Here's how I made them as a child out of Kleenex:
(for bigger flowers in more colors you can also use Tissue Paper)
1) Simply lay the Kleenex flat then fold it accordion style (like a making a fan)
2) At the center wrap a piece of wire or string tightly around the Kleenex.
3) Fold the 2 ends up to meet each other
4) Using a string or wire or piece of clear tape or florist tape, wrap it twice around the base (Calyx area) to keep the tissue pointing up.
5) If you need the flower to be smaller: Holding both ends together in your hand, flatten the top area & cut to the height you want.
6) To make these flowers stand up-right in a vase, you'll need to uses wire around the base (not string or tape) then continue twisting the wire to the length of stem you want
7) Starting at the "calyx" wrap green florist tape around the calyx (bottom area) then continue wrapping with green florist tape all down the stem.
---> This is somewhat like making a pom-pom out of yarn, only you use Kleenex instead!
*OPTIONAL:
- separate the 2 ply's of the tissue to make flowers fuller
- To make fluffier flowers, you can stack 2 or 3 Kleenex's on top of each other.
- For bigger, fuller, stiffer flowers in bright colors, use tissue paper (like for wrapping gifts)
- For super fancy flowers, when flowers are complete, spray the flowers in a spray lightly with spray-adhesive then dip in glitter.
MORE DIRECTIONS:
http://foldingt … aper-carnations/
STEP-BY-STEP DIRECTIONS WITH PHOTOS:
http://kidspart … e-Paper-Flowers/
SUPER-GOOD DETAILED DRAWINGS & DIRECTIONS:
http://home.how … per-flowers2.htm
MAKING A ROSE: (instead of a carnation)
http://kidspart … -Alternative.htm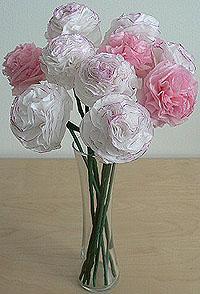 May 5, 2010
0

found this helpful
Yes I made a lot of those flowers out of facial tissue when I was a teen ager. In fact at that time we could buy boxes of tissue that was divided into sections of pale blue, pink, and yellow and my junior class of 11 students (7 girls and 4 boys) made lots of these flowers to use as decorations for the junior-senior prom. Then we decided we didn't have enough so a couple of us walked a block to my aunt's house and picked a bunch of apple blossoms off her six apple trees. Fun times!