Crafts Using Tissue Paper
Solutions
Share on ThriftyFunThis guide contains the following solutions. Have something to add? Please share your solution!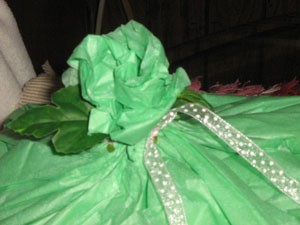 This was purely by accident. I had no wrapping paper, so I used several pieces of tissue paper and twisted it up and it formed what looked like, to me, a rose. So I stuck some silk leaves I had on both sides and it looked like I did it on purpose.
By Diana from Highland, MI
I dislike seeing things thrown away without ever being ever. We have thrown away large handfuls of gift tissue that comes in those gift bags and this is such a waste. I am thinking that we could put gifts in those cloth bags and use pretty towels or hand towels in it instead of the tissue. If you do have gift tissue, this can be recycled into beautiful crafts and things like stained glass windows, collages, and flowers to put into little pots and bottles or to wear in your hair. Here's some ideas I came up with when checking about.com and brainstorming with the three Rs, which are reduce, reuse, and recycle
Faux Stained Glass Window: Paint a window with liquid starch, stick on tissue paper, and paint over that. As long as the window doesn't get wet, it stays there. This wouldn't work in the winter months, but I can see myself making faux stained glass out of two sheets of plastic and hanging it on a pressure rod in the window to let light in during the winter when the window gets wet from the weather.
Tissue Paper and Pipe Cleaner Flowers: I am going to keep a box of pipe cleaners, I love the number one, and number two. They can be used to make flowers instead of the gift tissue going into the landfill. To make the flowers, cut out a circular shape with scissors or pinking shears. Make a "J" at the top of the pipe cleaner to hold the flower circle shape on. Put the flower on at the bottom of the pipe cleaner by pushing it through. Bring it on up to the top and kind of squish it around the top of the pipe cleaner.
Pipe Cleaner and Tissue Paper Butterflies: Take a couple of squares of different colors and and secure with a pipe cleaner, making the two ends look like antennae. Then put on a clothespin for the body and hang up with a thread.
Decorative Jars: I am going to make some stained glass jars by putting tape around the jar with the tissue paper arranged under the tape. I won't overlap the tape. I could use decoupage stuff, but I probably won't.
Paste Flowers on Construction Paper: We did this at the library and it was great fun! We took a flower picture that was not colored in or we drew one, then we cut out little pieces of the tissue and wadded them up and pasted them on. I've included a picture of one we did for Christmas, it is still on our wall from years back. There are actually some beans on this decoration, but I probably won't do that on mine.
Blessings and have fun reusing things and recycling
By Robyn Fed from Hampton, TN
This flower gives a lifelike impression and with thin paper, you can make a very elegant flower. You can arrange them on a flat plate or use as an accent to your project.
Approximate Time: 10 minutes
Supplies:
Tissue paper
2 inch Scallop circle punch
Hole punch
Brad
Instructions:
Make a pile of 6 small sheets of tissue paper with light pink first and then dark, one after the other.
Note: You can make the entire flower with the same colored paper and with any size of paper.
Punch out scallop circle shapes, and then punch a hole through the middle of it.
Insert a brad into the hole through all the scallops and secure it on the back.
Scrunch each piece of paper up toward the center. Take care not to tear them.
When all scallops are scrunched, gently open out the petals.
By Maricel from Fairfax, VA
Rebecca Lanham
0

found this helpful
When you want to make those dull, red clay pots into something for display, all you need is some tissue paper, glue and water mixture, and clear varnish.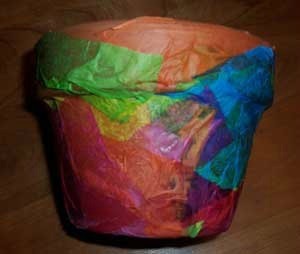 Read More...
January 30, 2018
0

found this helpful
This is a good craft to work on with your kids. Using white tissue paper stuffed with recycled newspaper you can make as many of these fun ghosts as you like. This is a guide about how to make easy tissue paper ghosts.

September 29, 2017
0

found this helpful
Making paper pom poms from tissue paper is not only easy; it is also a fun activity. These pom poms are perfect decorations for a variety of occasions.
This is a guide about how to make tissue paper pom poms.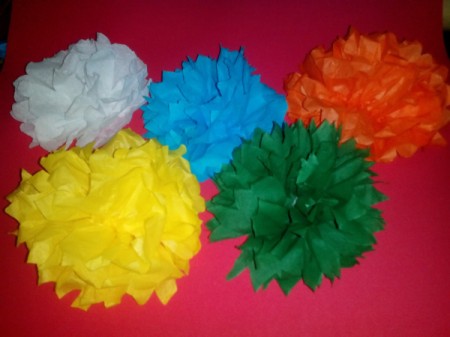 October 29, 2013
0

found this helpful
This guide is about making tissue paper flowers. Lovely, colorful decorations can be made with this very thin craft paper.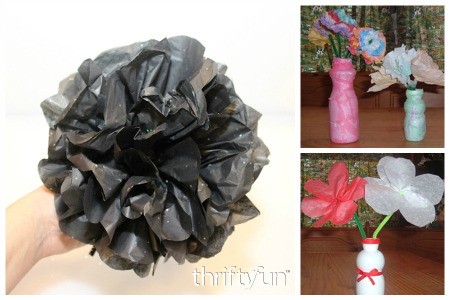 Questions
Ask a QuestionHere are the questions asked by community members. Read on to see the answers provided by the ThriftyFun community or ask a new question.
How do I make Mother's Day flowers out of tissue?
By vianna from IA
Answers
May 5, 2010
0

found this helpful
TISSUE CARNATIONS:
Here's how I made them as a child out of Kleenex:
(for bigger flowers in more colors you can also use Tissue Paper)
1) Simply lay the Kleenex flat then fold it accordion style (like a making a fan)
2) At the center wrap a piece of wire or string tightly around the Kleenex.
3) Fold the 2 ends up to meet each other
4) Using a string or wire or piece of clear tape or florist tape, wrap it twice around the base (Calyx area) to keep the tissue pointing up.
5) If you need the flower to be smaller: Holding both ends together in your hand, flatten the top area & cut to the height you want.
6) To make these flowers stand up-right in a vase, you'll need to uses wire around the base (not string or tape) then continue twisting the wire to the length of stem you want
7) Starting at the "calyx" wrap green florist tape around the calyx (bottom area) then continue wrapping with green florist tape all down the stem.
---> This is somewhat like making a pom-pom out of yarn, only you use Kleenex instead!
*OPTIONAL:
- separate the 2 ply's of the tissue to make flowers fuller
- To make fluffier flowers, you can stack 2 or 3 Kleenex's on top of each other.
- For bigger, fuller, stiffer flowers in bright colors, use tissue paper (like for wrapping gifts)
- For super fancy flowers, when flowers are complete, spray the flowers in a spray lightly with spray-adhesive then dip in glitter.
MORE DIRECTIONS:
http://foldingt aper-carnations/
STEP-BY-STEP DIRECTIONS WITH PHOTOS:
http://kidspart e-Paper-Flowers/
SUPER-GOOD DETAILED DRAWINGS & DIRECTIONS:
http://home.how per-flowers2.htm
MAKING A ROSE: (instead of a carnation)
http://kidspart -Alternative.htm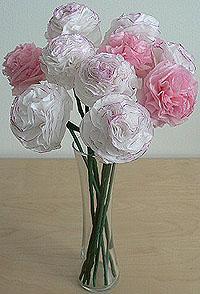 May 5, 2010
0

found this helpful
Yes I made a lot of those flowers out of facial tissue when I was a teen ager. In fact at that time we could buy boxes of tissue that was divided into sections of pale blue, pink, and yellow and my junior class of 11 students (7 girls and 4 boys) made lots of these flowers to use as decorations for the junior-senior prom. Then we decided we didn't have enough so a couple of us walked a block to my aunt's house and picked a bunch of apple blossoms off her six apple trees. Fun times!
Answer

this Question

...
I'm looking for a way to tint sheets of white tissue paper any other color. I picked up a bunch of plain white and would like to use them for upcoming holidays. Thanks!

Sara from Idaho
Answers
January 10, 2005
0

found this helpful
How about streeaks of watercolor paint or diluted food coloring.
January 10, 2005
0

found this helpful
You could apply the diluted food colouring in a fine spray using a small spray bottle for an interesting speckled/streaky effect - practice on a piece of newspaper until you get the effect you want.
Regards
Jo
January 10, 2005
0

found this helpful
How about trying the spray paint (I think it's Design Master) that's made for artificial flowers. Another thought is to stamp your sheets.
Good luck,
Laine
By Shelly (Guest Post)
January 12, 2005
0

found this helpful
I've read that you can decorate (tint?) paper by blowing liquid bubbles at it. The bubbles are the type you played with as a kid. Dip a "wand" into the liquid and gently blow through the "O" at the paper you want to colorize. When the bubbles pop they leave circular colored designs on the paper. You need to "hang" the paper up, and I'd do it outside, as the bubbles leave their mark on any surface when they pop.
Answer

this Question

...
Related Content