Recycle all types of boxes to make pretty storage boxes for your crafts, keepsakes, and precious memories.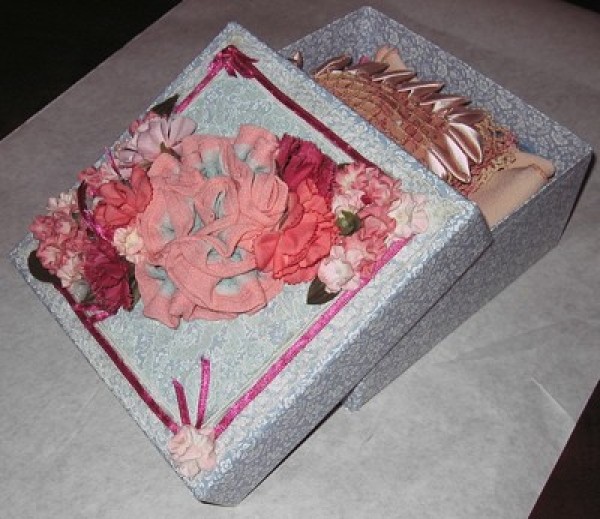 Approximate Time: 3 or more hours
Supplies:
empty laundry detergent, shoe, or cigar boxes
scissors and ruler
ribbon, beads, silk flowers, bits and pieces of fabric, and lace
Contact paper, or gift wrap or wallpaper scraps
Elmer's Glue All, hot glue
Instructions: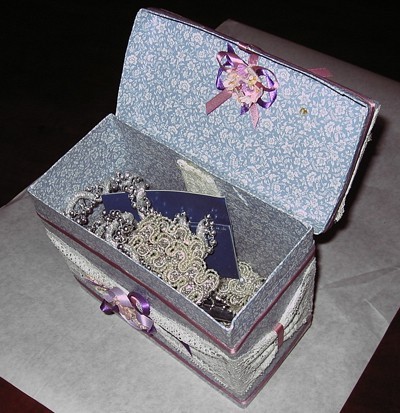 I cover my boxes on the inside just as nicely as I do on the outside. I so often end up giving them away, and want them to look like a "gift".
Choose your box and cover it with the material (paper, fabric, wall-covering, gift wrap) you like. If you've never done one before, don't worry. You'll soon get the hang of it. I had to do a couple before I learned the best ways of doing lots of things.
Decorate it anyway you like. Be as lavish as you please. I use bits and pieces of old jewelry, tiny silk flowers, satin ribbon, whatever I like or things that mean something to us.
Two of the ones shown in the pictures are "Memory Boxes" and were first covered, then the tops were trimmed using some fabric from a day-robe that my mom wore. It was her favorite, and we always teased her about wearing it all the time. I cut strips of it, folded them and made them into roses by gathering the fabric and using hot glue to fix them in place.
The green velvet ribbon came from a dress she loved. Each of my daughters have their "Memory Boxes" already. The two shown here that are full of handkerchiefs and scarves belong to my son and me.
The two laundry detergent boxes with attached lids hold some of my "crafts in progress". I can leave them sitting anywhere, and they don't look so messy or out of place.
Any questions, please feel free to ask, and I'll do my best to help.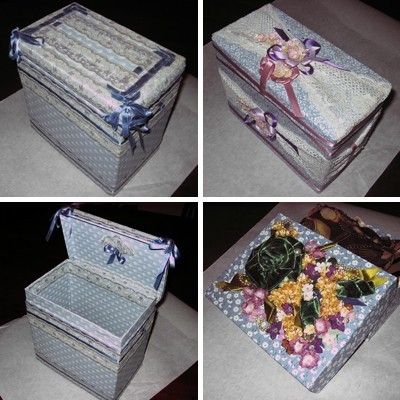 By Julia from Boca Raton, FL