July 22, 2008
0

found this helpful
What do the keys sound like when they are clinked together? Could you use them as components in a wind chime?
The white styrofoam piece could hang down to "catch the wind" or be used as the top ring to hang the other items from.
July 22, 2008
1

found this helpful
Make a big checkerboard on any solid color fabric, painting in the alternating color with fabric paint or Sharpie colored pens so it'll be permanent. You could mark the squares, guided by a ruler, then let the kids paint them in so they get some quiet crafting time. You could let the kids mark or paint on the colors, or even have them glue the white styrofoam circle onto them for the other color, and you have a big set of checkers! Because they stack, it would be easy to 'king' the checkers. Since you have a lot of these anyway, wouldn't matter if they lost a few. They could even play outside with them.
July 23, 2008
1

found this helpful
The first thing I saw was an angel. Glue the key to the back of the smaller plug like piece as a halo. With a permanent marker, draw eyes and mouth the opposite side of the plug (might have to sand and brush off surface if it is slick or the markers won't take).
Gather the white ring in the middle to make the wings. Glue to back of the small plug allowing to hang down below the bottom edge. Attach plug with halo on the top edge center of the blue ring.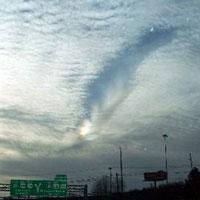 July 24, 2008
0

found this helpful
Depending on the ages of the kids, one of the most fun, entertaining and interesting things you could do, would be to simply lay out the pieces, and let the kids decide what to make with them! Kids are so creative, you'll have a blast watching what they can come up with!
You could even make a contest out of it. Precede as above, but tell the kids that it is a "Hot Summer Invention Contest" and give prizes. You can create several categories (maybe, coincidently equal to the number of kids there are?!?) such as "Most Useful Invention", "Most Creative Invention", "Prettiest Invention", "Silliest Invention", etc.
Just have fun with the kids, that's the most important thing!
By Darlene (Guest Post)
August 29, 2008
0

found this helpful
Hi, wow great idea to make a game. Perhaps it could be something your Grandchildren and you do together. The pieces that you've shown could be board game pieces and you could play it outside with chalk squares so that each time they play it could be "new".
Enjoy.