When we got married, Jim and I had only one thing in large numbers: children. We decided to purchase some land in the country where the six of them could have room to grow.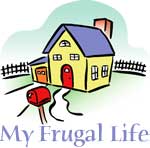 We had $5,000 saved, and used it to put a down payment on an 11-acre piece of marginally useful (to most farmers) land. It took three years to pay off the $10,000 balance, making extra payments whenever possible.
The land was unimproved. Half of it sits high and dry on an ancient lava flow. The other half is an old river bed filled with lovely silt loam. We were able to build a chicken coop and a shed to milk a cow in. Later came calf hutches and a pig pen made from discarded (free) pallets. We bought two ancient trailers to put together for living space, and another for the kids' bedrooms.
The first cost $350, the second $125.00, and the last one $1,000. That should give you an idea of the condition they were in. The idea was to fix them up as we could afford it. We put up an outhouse that had once occupied space in a city park, bought kerosene lamps and installed a wood stove for heat and a liquid propane stove for cooking.
The years went by and the kids grew up and moved away. It seemed as if we would never be able to finish up the house. We did what we could, but there was never money or time enough. We lived with bare insulation, no water or power, and drafty floors. Those middle of the night trips to the outhouse were becoming murder as we aged, especially in winter. I became increasingly nervous about reports of mountain lions in our area, and even saw one once in broad daylight.
Two years ago, we had enough saved to put a pole-built roof over the place. It was a great improvement, and by doing the labor ourselves with the help of two friends, we did it for $5,000. The building permit valued it at $14,000, so we saved $9,000 in labor by doing it ourselves.
Still, the house was awful. The roof was leaking. Every single strut in the walls was rotted or broken. The exterior walls were bulging dangerously. There were holes in the floor where rot had destroyed the underlayment. One hole had been cut by firemen when the mobile home caught fire, so the retardant and water could drain out. The hallways were too narrow for tall people, and the bedroom was so small we could barely squeeze around the bed to get in and out. Most people would have torched the whole thing. You get the idea.
Then we received an inheritance from Jim's parents! Wow! Admittedly there were a lot of things we could have bought, but the house was our priority. We discussed picking up a manufactured home, which would have eaten up a minimum of $130,000 for anything decent, and we have not been impressed with the structural quality of the manufactured homes we have seen. While we could have paid cash, it did not seem like a good investment to us.
Two of our friends from church, a married couple, work as painters. But they also knew a lot about construction and electrical wiring. We asked if they would like to work on our place. They've been great! They work in other jobs with ours, charge a fair rate, and are dependable.
Right now we have all the room interiors finished except for the living room. They and my Jim took out some room dividers to make fewer but larger rooms. New windows and cream-colored walls gave us far better light. No more claustrophobia! There are new floors, ceilings and wiring. The plumbing works better than the old ever did. They are enclosing the eaves on a pole-built roof, and they have painted and textured inside. The last things will be siding, and blowing in insulation in the roof.
Essentially, we have a new 1,000 square foot house, and I believe it will end up costing under $30,000. We have chosen to install a composting toilet with minimal upkeep. The very last thing will be some solar panels and a wind generator. The cost will be about the same for power as our local utility would have charged to run poles and lines back to our place, which is 1/4 mile off the road and from the nearest power pole. There will be no monthly bill.
By rebuilding the trailers, we saved about $100,000. There is no debt involved. Our friends started in February, and we expect everything to be finished by some time in November. It calls for an extra month because they have a big job to do in another state in October.
I admit we could never have done this without the inheritance. We tried and failed. There is so much work on a farm that non-essential tasks get put off again and again. But it is so exciting now, to look out my new windows and watch the finches eat plums just outside, as though I were invisible! And we will never be embarrassed to ask anyone over for a visit or a meal again. The best part is the money we saved. We are retirement age, and are encouraged to know we have a little put by to live on when we can no longer support ourselves.
We have always loved living here in the country. We stayed even though the house was a wreck because we had a beautiful garden, animals to care for, and personal freedoms unheard of in the city. Many friends were envious and called it "Heaven" and "Rainbow Ridge". I think they were mostly envious of our low cost of living. If we absolutely had to, we could make it on $400 a month. Fortunately our Social Security is better than that.
Life doesn't get a whole lot better than this.
By Coreen from Rupert, ID
Do you have a frugal story to share with the ThriftyFun community? Submit your essay here: http://www.thriftyfun.com/post_myfrugallife.ldml