Making a Tin Punch Lantern
Solutions
Share on ThriftyFunThis page contains the following solutions. Have something to add? Please share your solution!
Here's a simple way to turn old coffee or vegetable cans into lovely garden lanterns.
Materials:
tin can
white paper
colored marker
masking tape
paper clips
hammer
large nail
paint, optional
tea lights or candles
wire for hanging
Directions:
Clean out and remove the labels from any sized tin can-opened on one end. If necessary, pound down any sharp edges with a hammer, then dry the can thoroughly.
Cut a piece of white paper big enough to fit around the can, cutting off any excess. This paper will serve as your design template.
After cutting the paper to the correct size, remove it from the can and with a colored marker, trace or draw a simple design using a series of small dots (about the size of a nail head). These dots represent the spots you'll be punching with a hammer and nail. Leave at least a 1/2 inch border around the top of the can so you punch out holes for hanging.
Fill the can up to the top with water and let it freeze over night. This will prevent the can from bending and denting while you punch holes into it and give you a hard surface to work on.
Remove the can from the freezer and reattach your template with masking tape. If necessary, secure the template with paper clips along the rim of the can.
With a hammer and large-sized nail, pound holes into the can following the pattern of your design. Make an X with masking tape across the open end of the can to make it easy to mark where to punch holes for hanging.
Decorate the outside of the can with paint as desired. Add small candles or tea lights and use wire or a metal clothes hanger for hanging.
A Note of Caution: Make sure you keep your candles small and your hangers long enough to avoid fire. Never leave a candle burning unattended.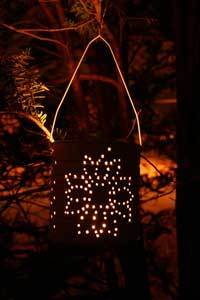 Repurposing used cans from soup to cat food, these tin punched cans make adorable, homey holders for candles on tables or in a centerpiece.

Total Time: Less than an hour after you've frozen the water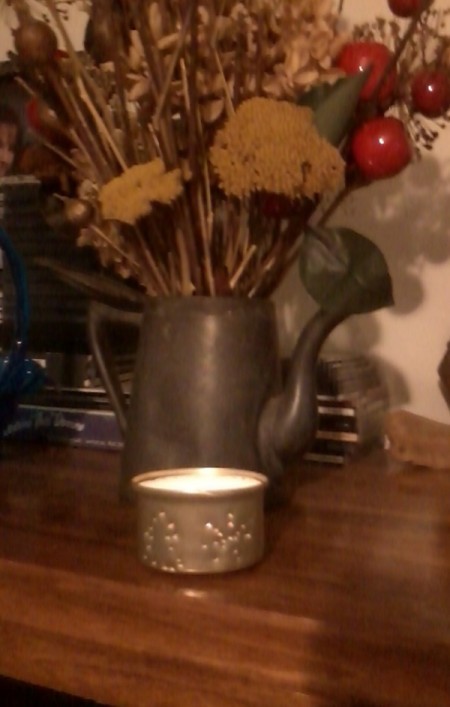 Supplies:
tin cans from your recycling bin
paper/scissors
nail
hammer
water
candle
bath towel
Steps:
Clean the can and remove the label off of a used tin can (I used the little cat food cans for this particular project, but with the larger cans you can make more elaborate designs or even names or words like "joy".
You may use the back of the label (if you removed it carefully) but sometimes that paper is thin and gets wet too easily so I recommend you make two labels the same size as the original can label to make another heavier duty card stock template. I remember this step after my original label got wet.
Fill the can with water and freeze solid even if that means overnight.
Draw the same design on your paper templates. The second template is just a spare if you rip your original. If you are crafty enough to free hand a design you needn't even do this step.
Once your template is drawn and your water in your can is solid ice, tape the template back on the can.
I fold up a thick towel to hold my can immobile while I hammer.
With one or an assortment of nail sizes, hammer little holes along your template lines. A variety of sizes and how deep you make the holes makes interesting light shows at the end.
Remove the template when completed and let the ice melt.
When everything is dry, add a candle.
My kids use to make them for gifts for the family and everyone loved them.
It's a quaint sweet decoration that also looks great for Thanksgiving!
Fill can with water and freeze. This will give the can stability so that it does not collapse when you hammer with nail.
Read More...