Cyinda
Bronze Post Medal for All Time! 213 Posts
August 24, 2009
0

found this helpful
Last week I saw a segment on my local news (Seattle) that many vets in our area are refusing to dock tails & crop ears. They are trying to be "cruelty free". I'm sure most people have an opinion on this just like they do on circumcision of newborn human males. But unlike circumcision, which many studies say can help prevent aids & some forms of cancer, docking tails & cropping ears is only for the "look" of the animal. Personally, I think a min-pin or a pit doesn't look like right without the ears being cropped. But as you probably already know, tail docking & ear cropping was originally started for fighting dogs, so their opponents wouldn't be able to easily grab their ears or tail & take them down during the fight.
I bet it's going to be harder & harder to be able to find a vet to do this in the future because it's becoming more & more "politically incorrect".
My advice to you would be to talk to potential buyers of these puppies & ask them what they would prefer. Of course you can just wait until the puppies are born & see if they resemble the Chihuahua... If they don't even look like a min-pin, but look only like Chihuahua's then there's really no reason to do it anyway.

August 26, 2009
0

found this helpful
Do not breed your dog. There are so many homeless dogs in the world now. Get her spaded instead. Just look at Craigs List.

sandy
Bronze Request Medal for All Time! 87 Requests
August 26, 2009
0

found this helpful
I am happy you like your dogs. But it sounds like you are not a professional. Please don't breed them. There are many many dogs out there who have been bred and they are living or dying at the shelters.
That is not a reputable way to make money either if you aren't a pro.

Linda L.
Bronze Tip Medal for All Time! 64 Tips
August 26, 2009
0

found this helpful
Again, there are all too many unwanted dogs, esp mixed breeds around. Spay and neuter all your pets-don't breed!

February 25, 2019
0

found this helpful
Isn't the staying or neutering of an animal painful?

Jess
Silver Post Medal for All Time! 267 Posts
February 25, 2019
0

found this helpful
Generally, the pet is put under anesthesia and given some pain medication for a few days while healing.
That mild pain is very different from an amputation such as tail docking or declawing.

August 26, 2009
0

found this helpful
Either way, the puppies will be mutts, so why put them through the pain. It won't add to their value.
If you are set on it, crop and dock only the pups that look mostly min pin.

August 26, 2009
0

found this helpful
This practice of cropping has been against the law for many years in England as it is a very cruel practice as well as painful. I was a vet surgical tech and am speaking from experience.
Spaying and/or neutering is the only way to go! The males face a much lower incidence of testicular cancer and the females risk of uterine and teat cancer is greatly reduced if they are spayed.
If you don't have the money to get this done then contact an organization near you such as the Humane Society or even the dog pound can help you find low cost or free spaying & neutering.

(Guest)
Gold Post Medal for All Time! 846 Posts
August 26, 2009
0

found this helpful
Docking tails and ear cropping is/was not only done for dog fighting but also started centuries ago to protect dogs (mainly hunting dogs) from damage and possible infection to their ears and tails but, sadly, it also started being done for looks :-(
Today if a dogs tail or ears happen to be injured there are medications to stop any possible infection so unless these puppies are going to be officially registered and for sale or be show dogs why alter them for looks? Breeding is for your ego or pocketbook only and not for the benefit of the dog! As others have said here: Please, spay and neuter because there are already so many unwanted dogs out there!
I have a family member who once had a Dobie and she was the cutest thing ever because she wasn't cropped or docked!
Unfortunately the uncropped boxer in the photo I just found online here is docked but my point is why in the world put a dog through pain when they are so adorable left the way they're born?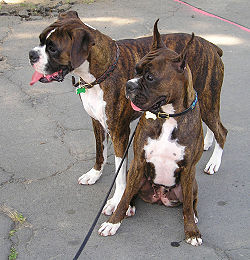 August 26, 2009
0

found this helpful
Sounds to me like you're trying to start a designer dog breed. I've had both min pins and chihuahaha's and both are adorable as they are, not a mixed breed.
Docking is cruel, please don't consider it.

Maryeileen
Bronze Request Medal for All Time! 59 Requests
August 26, 2009
0

found this helpful
Do not breed the dogs, and as others have said, cropping and docking is cruel and painful.

August 27, 2009
0

found this helpful
Um...why would you breed a min-pin to a chihuahua anyway? Also, docking and cropping is not a decorative surgery. It's done on certain breeds only for "work" and "show" purposes. It's also painful, remember, the tail is an extension of the animal's spine! Chopped up ear look terrible too, and they have to be taped and please, don't do any of this.

August 27, 2009
0

found this helpful
Before you breed your dog go on one of the Yahoo Dog Rescue sites and read the pleas to save wonderful young dogs that are being gassed in huge numbers. Maybe you could help rescue or foster some of THESE dogs. There are all breeds and mixed breeds.

August 29, 2009
0

found this helpful
Think of it like this: if pointed ears were popular for us humans, would you want someone cutting up your ears to force them into that sort of unnatural shape? We'd never consider cropping or docking our dogs!

September 2, 2009
0

found this helpful
People don't breed their dogs anymore due to overpopulation of animals in shelters. I'm really hoping that soon it will be a law that all dogs and cats must be neutered. Vets in FL refuse to trim ears anymore. I don't know if they still cut tails. It all sounds too cruel to me.