(Guest)
Gold Post Medal for All Time! 846 Posts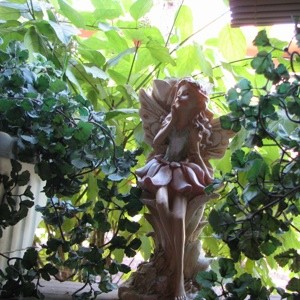 I have some really nice silk plants that I've used to decorate my patio balcony rails in rectangular pots for almost four years. They still look new and fresh on the side that faces in to my apartment, but the side that faces out to the courtyard has faded really, really badly from the sun.
I am trying to decide whether it's feasible to refresh the color for the outside portion of the plants for the neighbors' viewing enjoyment or just forget the idea of using them at all anymore and pot flowers and/or herbs in the planters instead.
I really would like to keep the silks if there's a natural looking way to recolor them. Any ideas from my fellow family members? I'm attaching a photo of the view from the living room facing side. They are the darker green foliaged plants directly next to the fairy angel.
By Deeli from Richland, WA
Answers

February 6, 2011
0

found this helpful
Best Answer
How about tricking the eye by adding a few new foliage sprays or tucking in a few silk flower sprays. It wouldn't take many to give the illusion of freshness. Make sure the new ones are a different variety from what you now have, this way the faded ones will just look like they are a lighter variety and will act as a "filler" for the new additions.
Also, if you add flowers, you can change the varieties each year and your neighbors will think you are creative gardener. Red geraniums would look beautiful! Remember, in nature there are many hues and shades of colors living side by side.
I don't know about dying the faded leaves all one color. You might try just sketching in some color here and there on the leaves. It may give the illusion of light dappling the leaves. I think that coloring the leaves would be a lot of work and would probably fade in short order.
Good luck and have fun.

February 7, 2011
2

found this helpful
Best Answer
There is a spray paint made especially for silk flowers, should be able to find it at Hobby Lobby.

February 7, 2011
0

found this helpful
Best Answer
There is a product made by Design Master called "just for Flowers". It is an aerosol that is sheer but has color and is actually made for fresh flowers. It works on faux fabric flowers nicely because it does not completely cover the texture underneath so the effect is more subtle and natural.
There is a green shade that is soft and nice and actually the color of fresh grass. Michaels and other craft stores sell it as well as most retail florists. Give it a try.

Pixiedust7
Gold Feedback Medal for All Time! 679 Feedbacks
February 13, 2011
0

found this helpful
Best Answer
There are fabric paint pens and textile markers available from the Herrschners and Mary Maxim catalogs and websites. It would be tedious coloring each leaf, and I don't know how soon the colors might fade, but it is another alternative if you can't find the spray paints mentioned.

February 6, 2011
0

found this helpful
What about dyeing them with green die or maybe using a colored marker on them?

Vi Johnson
Silver Post Medal for All Time! 288 Posts
February 7, 2011
0

found this helpful
Hi Deeli, The spray paint "tint" by Design Master will work and not look "painted ( use a couple of shades of green ) if it is still available. I can't find the tints here anymore.Faded flowers and greenery will fade in a short time again.
So If it is in your buget, adding some new in with the old is a good choice, as hettyw mentioned. Or do a reverse and put the unfaded toward the courtyard and add some new flowers/greens to your side. Luck, GG Vi

(Guest)
Gold Post Medal for All Time! 846 Posts
February 16, 2011
0

found this helpful
Thank you so much everyone! I still haven't made up my mind of just what to do but I am sort of leaning towards just salvaging the non-faded ones for another project and planting herbs in the planters. It's a total of six feet of silk leaves in the planters and it would cost oodles of money to add more silk spragues to make the faded sides look nice and couldn't find any of the silk spray paint locally.
Well, fresh herbs are a good thing and especially since I love cooking :-) Thanks again for the ideas and will share the final decision and photos with you. :-)
April 17, 2016
0

found this helpful
There should be a florists in yur area that would sell you silk flower spray paint. I got some for silk flowers. Works wonderfully.

February 18, 2022
0

found this helpful
I have some nice faux palm plants that have been exsposed to the sun turned the leaves bluish Im going to dye the leaves with correct color of green and paint leaves like and artist would. Itll be fun saving them no more sun.. lol

Jess
Silver Post Medal for All Time! 267 Posts
February 18, 2022
0

found this helpful
What a good idea! Please share a before and after photo. I'd love to see how it turns out.
Answer

this Question