June 25, 2011
0

found this helpful
What is funny, at one time I called her a misfit, like the (Island of Misfit Toys). She was lost and wanted a home, so many animals out there are just waiting for that special family. Thank you for your feedback.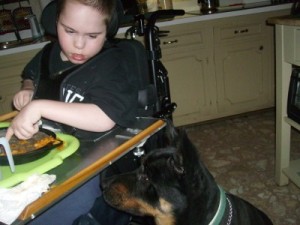 June 26, 2011
0

found this helpful
"Cleo is a great watch dog, only inside my home. She watches the kitchen table for leftovers."
That is the funniest thing I have ever read about a dog! That is hilarious!
Cleo looks like our Rottie Mix. Our Rottie mix was one that kind of came to us in an unusual circumstance. Someone dumped her, or she escaped, or whatever the case may be. We live by a road, and people think since it leads up a mountain, that it is ok to leave animals and dump them, as if somehow the fact that there is a mountain means they can fend for themselves, of course, Bruno showed exactly what some dogs will do when dumped, sit in the middle of the road.
That is exactly what Bruno did, right in front of our house. My husband went to see him and look at his teeth, and check him out. He has been in our yard ever since, no one claimed him or anything, several offers, but no, he is ours. He had no identification on him or anything.
He has been a wonderful pet and friend, and like Cleo, he seems to love watching everywhere for treats, and leftovers. LOL. My husband's German Shepherd used to know five minutes before a seizure would start in my daughter. He would go and nudge her into a sitting postion.
Once the seizures were under control, he never went to her that way and nudged her again. Dogs are so amazing, and they know a lot of things we don't. Thank you for sharing this beautiful story of Cleo!
Here is our Bruno, otherwise known as Buddinsky, because whatever people are doing with another animal, he always comes and butts in on whatever it is that is taking place. He is a hoot!
Robyn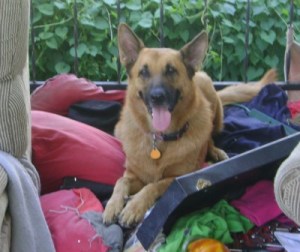 June 28, 2011
0

found this helpful
I can't say that I've ever met a "dumb" animal, but I sure have met a bunch of dumb people. It'd be wonderful if we knew what the animals know about health issues and who needs them the most. Maybe one day, our really smart people will figure it out. Somehow I doubt it though. It just wouldn't be the same. They'd want to be paid up front for it. Animals never ask for anything more than to be loved and maybe that's why God gave them such
special talents.
Lee
June 29, 2011
0

found this helpful
Cleo looks more like a doberman mix than shepherd mix to me. But she is beutiful & has a very sweet face! Animals are so smart, & it seems that the smartest dogs can always sense what is needed from them most even when we don't know ourselves. You thought you needed a watch dog but Cleo knew your son needed a buddy who would challenge him! I think you got both, just looking at Cleo would probably scare potential no-gooders off! Nobody has to know she's a marshmallow inside! LOL!