I have been reading 'My Frugal Life' for some time now, and thought it was appropriate timing to submit mine. I have been fairly frugal all my life. My mum tells me when I earned money as a child cashing 'bottles', I would have my money box with me to put the cash in.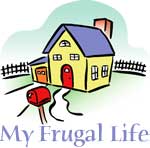 Those were my first memories. I wasn't brought up frugally. My mum did do just about everything from scratch from making all my clothes, including my undies with a pocket in them for my hankerchief, to being and still a very good cook, though not necessarily an economic cook.
Back to my story, nearly twelve months, ago our house was severely burnt, and we elected to rebuild. It was a 60's house with much asbestos and is now nearly ready to reside in again. Due to our own choice, the house and car (burnt to only metal left and tyres melted to the concrete) were insured and the contents weren't.
Our thinking was we were insured for nearly 30 years and no claims and our contents weren't worth much as many items were nearly ready for renewal. Many of our possessions were destroyed, but most of our clothing, photos and personal effects were retrieveable. Smelling strongly of smoke, but no damage to us.
We set about replacing everything and managed to buy just about everything second hand from E-bay, garage sales, op shops, freecycle (I think similar to craigslist) and local markets for a fraction of the cost of new stuff. When we replaced the fridge and washing machine we went for fairly new to get good energy ratings.
We managed to replace our vehicle, with one a few years newer than we had we all the extras on it. (we put a slide on motorhome on the rear of our twin cab ute) for a lot less than a new one, even though we were out of pocket by many thousands of dollars.). Garage sales allowed me to replace things like kitchen items such as tupperware, utensils mini mixmaster and linen and much more. My tupperware has never looked so modern.
I forgot to mention, that neither my husband or I were hurt and in times of feeling a bit sorry for ourselves, and feeling homeless we quickly reminded ourselves that possessions can be replaced, but life can't. We have now got contents insurance to cover all our 'new' possessions.
By Melinda from Brisbane, Australia
Do you have a frugal story to share with the ThriftyFun community? Submit your essay here: http://www.thriftyfun.com/post_myfrugallife.ldml