Ten Easy Ways to Eat Healthfully
Diet is a four letter word!
Restrictions lead to a feeling of deprivation and that leads - you guessed it - right to the kitchen cupboard, in search of a reward.
So instead of "doing without," focus on creative ways to enjoy mealtime without guilt. Here are a few ideas to try:
Eat when you're hungry. Sounds obvious, but it's easy to get into the rut of dinner at 6 or 7 pm, when everyone is hungry - and reaching for high-calorie snacks - at 4 or 5.
Salads don't have to be all about lettuce. Prepackaged baby carrots and rinsed baby tomatoes are all you need for a fast, healthy dose of greenery.
Add color and texture for a more satisfying meal. Often when we eat, we're craving sensory pleasure. The crunch of a fresh radish, the new-grass smell of basil, and the chewy texture of plain baked potatoes still in their jackets fill the bill without adding additional fat or calories.
Watch out for canned or pickled vegetables that carry a high sodium count, which can lead to water retention. Rinse pickles, artichoke hearts and olives before eating.
Canned mandarin oranges are a good pantry staple to keep on hand. Use the juice pack variety and add to salads or serve with sugar free Jello or small slices of store-bought angel food cake for a fast, low-cal dessert.
Use lunch sized plates. In time, you will become used to a smaller portion - painlessly.
Instead of a fork and knife, try using chopsticks. I buy disposable wooden chopsticks in bulk at the Oriental supermarket; a package of about 100 is less than $3.
Pay attention to the color scheme in your kitchen or dining room; bright orange and red tones, for instance, have been shown to increase appetite, while cool blues and greens have a calming effect.
Dont set bowls on table. Instead of serving family style, use a sideboard or kitchen counter to place serving bowls.
Make your own "spray-on" salad dressing with balsamic vinegar and a little olive oil and spices, mixed in a plain plastic spray bottle (just label it and keep it stored away from the window cleaner!)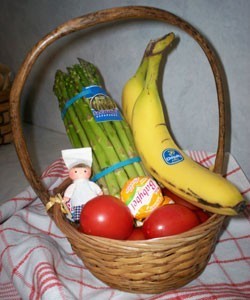 About The Author: Claire Bush is a freelance writer and author of "Dining in Arizona - 101 Great Places to Eat." She is a working chef in Sun City, Arizona. Reach her at claireeileen@aol.com.
Add your voice! Click below to comment. ThriftyFun is powered by your wisdom!
January 23, 2008
0

found this helpful
Good ideas, thanks. I had to smile when you recommended carrots and tomatoes for 'greenery', so thanks for the added whimsy too.
Add your voice! Click below to comment. ThriftyFun is powered by your wisdom!
Related Content