Cleaning Candle Wax from Candle Sticks
Solutions
Share on ThriftyFunThis page contains the following solutions. Have something to add? Please share your solution!
Try spritzing the inside of your candle holders/votive cups, etc. with a little non-stick spray before you put in a new candle and light it. The clean up from the wax is a snap!

By Robin
To remove wax from a metal or glass candlestick my way:

Turn oven to 170 degrees C (about 325 degrees F)
Place item on tray lined with baking paper.
Leave for 5 minutes or until it looks like wax has melted.
Remove HOT item with a cloth. Be careful not to burn yourself!
Rub down with dry rag or paper towel and let cool.
This is much less messy than the hot water method and quicker.
The easiest way to avoid a problem with cleaning any of your candlesticks or candle holders of any type is simply spray a small bit of "Pam" onto the bottom of your candle holders whether they are sticks or votive holders, tea lights, etc.
When time to clean, use a butter knife and run it around the edge of the wax and it will all just pop out!
By Joyce from Gulfport, FL
Put the candle sticks in hot water. When wax softens, peel it off. Do this again if the melting is not complete. Have an old cloth ready to rub the stick while it is still a bit warm. This will take off the final residue.
Do not use paper towels. That is a wasted use of a scarce natural resource. Save the planet.
By joanfry from France
When washing dishes with Dawn, I put the washables with wax on them in the dish water. VOILA! The wax just slid off. I tried placing a warm sponge with the dish water on the wax on the counter top and again, the wax just slid off. So I tried it with a washable tea towel. It worked again.
I was impressed a tip to use Dawn for cleaning tubs and showers. It really works.
This I came upon quite by accident. I was trying to put a small candle into a larger, almost melted candle. It gave just enough to splash warm wax everywhere.
By Faye from Garland, TX
Questions
Ask a QuestionHere are the questions asked by community members. Read on to see the answers provided by the ThriftyFun community or ask a new question.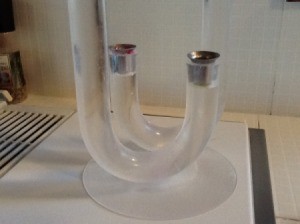 I have acrylic candlesticks that have a thin layer of wax leftover from attempts to clean them in hot water. This process left a thin coating of wax. How can I get it off?
By Pat B
Answers
November 11, 2013
0

found this helpful
Candle wax is much easier to remove when it is cold and brittle. Place the candle holder in the freezer for approximately 1/2 an hour and the wax should remove very easily. It will probably pop out if you tap the candle holder. If not, a knife should pop it right out.
November 12, 2013
0

found this helpful
Try heating it with a blow dryer and then wiping with a dry rag.
Answer

this Question

...
How can I get candle wax off of a metal menorah?
By Shirley
Answers
April 9, 2012
0

found this helpful
Put it in the freezer for several hours and then you will be able to pop the wax off.
April 10, 2012
0

found this helpful
Depending on the metal, you could also dip it in boiling water to heat-melt the wax.
Cleaning an heirloom one, though, presents a different situation altogether. Have you asked around after Temple, or at one of the ladies group get together?
November 23, 2013
0

found this helpful
Put the Menorah and/or Shabat Candelabras in a plastic bag, and then in the freezer, for one hour and then quickly tap the objects in the bag with a wooden spoon or stick. The stubborn bits can be scraped off with the pointed ends of your wooden implement.
While the are cold wipe them down with a warm wet cloth!
Answer

this Question

...
How do I remove old candle wax from a plate and candle sticks?
By sheila from MI
Answers
December 24, 2009
0

found this helpful
I soak my items in cold water as long as the water doesn't damage the item. It works for me.
December 24, 2009
0

found this helpful
I soak in super hot water, then rub the wax off while still warmed with a terry cloth rag and then wash with soap and water.
December 25, 2009
0

found this helpful
Put the items in the freezer for at least an hour or more. When you remove them. The wax will just pop off. Very easy & non messy.
Answer

this Question

...
How do I remove a lot of wax from a leaded crystal candle holder? The holder is about ten inches high, about 7 inches across, and it is filled with wax (about 3 inches deep). Lesson learned, don't allow others to "please light the candles". Please help!
Answers
November 23, 2011
0

found this helpful
Fill your sink with warm water. Insert the candle sticks for a short while. A lot of the wax will fall away. Keep doing this until most of the wax is gone. Re warm the water as it cools.
Eventually (not more than half an hour) put the candles sticks into hot water, use a soft cloth to wipe them.
Finally wipe with vinegar or white spirit. Rinse with cold water to bring back sparkle.
This method works on all candle sticks, and then if you have wax on furniture or fabric, use a warm iron over a piece of paper towel, or brown paper, until the wax is absorbed into the paper.
November 23, 2011
0

found this helpful
I have had success removing candle wax by placing the container in the freezer. After the container gets really cold, you can scrape the wax off easily.
Answer

this Question

...
The best way to remove hard wax from candlesticks or any leftover wax is to place the dish or candlestick in the freezer overnight. Take it out the next day and the wax will just come off by rubbing or pop out of the dish. Easy cleaning!
By Jennifer from Topeka, KS
Archives
ThriftyFun is one of the longest running frugal living communities on the Internet. These are archives of older discussions.
How do you remove wax from candle stick holders?

Janine from SA

Answers:
Removing Wax From Candle Stick Holders
The hot water trick worked great, I did not have a lot of wax, just stubborn about coming off. So I put it in the sink under running hot water and within less than a minute had a sparkling clean holder.
It had some irregular shapes so the freezer did not work as well.
Thanks for the help. (12/10/2007)

By Bob C
Removing Wax From Candle Stick Holders
I like the suggestion of the freezer. I have poured hot water over glass jars to get candle wax out and it leaves a smear of candle wax that is nearly impossible to get completely clear. I will try the freezer, thank you. (11/26/2008)

By Catherine
I need advice about removing candle wax from metal candle holders.

Helen from Ortonville, MI

Answers:
Removing Candle Wax From Metal Candle Holders
Put the holders in your freezer for about an hour, it should be easy to get the wax off. (11/08/2006)

By Joyce Murphy
Removing Candle Wax From Metal Candle Holders
Put the candle holders in the sink w/ hot water. In about a minute, all of the wax will either fall or pop off, or be able to be wiped right off. That also works if you have a candle that has melted into a container, but the wick is gone and you need to get the wax out. (11/08/2006)

Removing Candle Wax From Metal Candle Holders
I'd dip the candleholder into a clean empty large coffee canful of HOT water and leave it for about 30 min. removing the candle wax when warm and soft with a paper towel and ice cream stick or plastic disposable knife, if I had one of them. This is standard proceedure for candle wax. Using the can prevents having to clean wax residue out of any other container. Toss the can afterwards. Good luck
and God bless you.(11/09/2006)

By Lynda