September 11, 2010
0

found this helpful
Back in early '50s our ring was four short; official number was 7F22. My Mom may have listened in on calls not directed at her. Fun.
September 12, 2010
0

found this helpful
I remember those well. Our ring was three longs. My dad forbid anyone in the household to listen in on our party line. He always said we should respect people's privacy. Back then, they were very hard to hear on, so people hollered when they got a call. Even after the crank phone was no longer in use, I can remember the people in the area hollered on a phone because they still thought nobody could hear them. To this day, it is not easy for me to use a phone because I was never allowed to call anyone on ours! I always felt like I had to see body language before I could communicate well.........funny how things stay with you that way.
September 12, 2010
0

found this helpful
Great post, pookarina; thanks! Those old phones back then were nicer to look at too. These phones nowadays--especially the cell phones--are ugly, I think; all black or beige, boring!
September 12, 2010
0

found this helpful
Pookarina, you've got a wonderful gift with words. Have you ever considered submitting this, or anything, to a newspaper or magazine? I enjoyed it so much I read it twice, and I think I'll save it to my computer in a Word document to reread from time to time.
Btw, hubby's descriptions of those old phones are nowhere near as poetic! Thumbs up for you.
September 12, 2010
0

found this helpful
Thank you ALL for the great and encouraging feedback. I am so glad that there are others out there who remember some of these older subjects that I just love to write about.
I also hope that they will help to keep alive some of the memories for our children and grandchildren. So
much of their lives today are vastly different from the way mine was, and my own children and grandies love hearing about "the olden days".
Your feedback is very inspirational and you are so appreciated.
Best regards to you all,
Pookarina / Julia
September 14, 2010
0

found this helpful
I just want to say that I agree with Just Plain Jo's suggestion. Thank you for sharing another good story Pookarina.
MisMachado
September 14, 2010
0

found this helpful
We never had a phone like yours, but my grandparents did. My grandfather was a real farmer, and when he heard on his radio about a bad rainstorm coming their way, my grandmother said he would start cranking that thing to alert all the other farmers around them just in case there was hail that would or could ruin an entire crop.
Thank you for sharing that interesting story.
ww
September 14, 2010
0

found this helpful
Love your story and the picture brings back so many memories for me. When I was growing up, we didn't have a public phone but did have the old crank phone on the wall. There were 4 phones on our line, my grandparents, uncle, his store and us. Our ring was 4 turns on the crank.
I didn't inherit a phone but I do have the inside makings of one that happened to be an extra part that was laying around. It weighs approximately 10 pounds.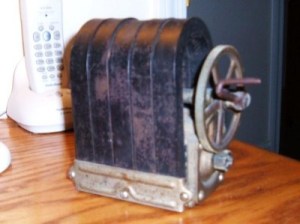 September 14, 2010
0

found this helpful
I wish I could remember all the old things the way you do. My own children never seemed very interested in hearing about the childhoods of me or my parents, but my grandchildren sure do ask alot of questions. I'm going to print your story out and read it to them and let them know I remember an old phone just like yours.
They're not going to believe it. Ha-ha.
Thank you Pookarina. You'll be getting my vote.
Lee
September 19, 2010
0

found this helpful
Loved your story and remembered my cousins phone and the stories they used to tell relating to events brought into their lives by that old wall crank phone with the many different rings for each household. Great memories! Thanks for sharing.
March 2, 2015
0

found this helpful
I remember when we had one of these, back in the 50s, and I remember the day the telephone man was carrying it out after replacing it with a dial phone. He asked me if I wanted the old one, and <sob> I told him, "No."
I was only about 5, but I've regretted not keeping that old telephone.