To get space from my toddlers when I am on the phone, I sit with a wet facecloth and wipe their faces whenever they come near me. Now I can chat without them being right in my space.
By Mrs. Burgo from Newcastle, NSW
Editor's Note: I think this would work equally well if you are trying to use a computer or make a craft project.
Comments
By (Guest Post)
November 18, 2008
0

found this helpful
Top Comment
This tip is fabulous! I never thought of that when my kids are young. They're 18 and 15 now, but I think it might still work. When I'm on the phone these days, they are worse at interrupting me than when they were toddlers, but I'm going to try the wash cloth idea anyway. It may just be the repellant I need! I'll be armed and dangerous.
August 30, 2009
0

found this helpful
Top Comment
I think this is a fantastic idea. My kids always seemed to know when I was expecting an important call.
To the people charging neglect, Moms have a way of knowing if their child really has an emergency or not.
The child would learn very quickly to not interrupt you on the phone. They aren't stupid and they hate having their faces washed.
When I was around age 8 and up I would intentionally wait for my Mom to get on the phone so I could ask her to do something she wouldn't really have approved had I had her full attention.
I'm in my late 40's and I have noticed that parents nowadays often allow their children to interrupt them when they are talking. We are teaching my granddaughter that if adults are speaking she must wait until a break in the conversation before she speaks (if it's not emergency). She's 6 and she knows the difference. It has to do with teaching children respect. Ok, I'll step down off my soapbox now LOL.
Sandy
August 30, 2009
0

found this helpful
Top Comment
My toddler is actually a touch OCD about cleaning, so it would not work on her. She has to help with the dishes, laundry, and cleans my living room for me. She's not even two and a half! So, in my situation, I ask her to bring me something or I ask if she will clean something for me. It is an alternative that keeps her quiet and I can keep my eyes on her with no problems!
August 30, 2009
0

found this helpful
Top Comment
Oh, oh! As a child advocate, I need to say that if a toddler is up and about, the mother's attention should be directed to the toddler and not the telephone or anything else. It takes an instant for a toddler to get seriously hurt or worse if you take your eyes off of him. Sometimes it seems like there is no Mommy time, but please wait until the toddler is napping to make your calls.
If someone calls while toddler is up, please tell them you will call them back. You would be heartbroken if something happened to your precious toddler while you were spending time on the phone. Toddlers are so funny and cute. Enjoy them because they grow so fast.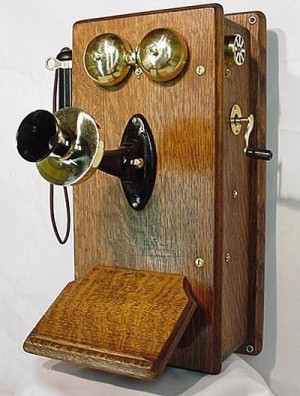 It had to ring but five rings; three short, then two long; our private signal, five rings to connect us with Detroit or London or Miami where the sun was shining. Maybe all the way to Sidney, Australia, or more likely, just down the road and a friend. We could crank the handle ourselves to set loose its magic power, and the hidden magneto would spark the same potential.
We'd get the operator with the velvet voice, saying "Number please: and we stood on the threshold to anywhere our minds or hearts took us. Set in a fancy wooden box that hung on the wall, it waited like well done 3-D art, a sculpture, but alive with unrealized and unlimited possibilities to go with all that unlimited power. alive with intrinsic and grand possibilities, waiting...just waiting. Waiting and holding forth an unknown present or a future yet unseen.
Some days, it came alive and rang; mysterious as a wrapped and beribboned gift, untouched, hidden to the eye, but still exciting while we waited to hear from my Father who was on the road. Would he be coming home this weekend? Would he say we'd be going fishing? Should we pack a lunch? Potato salad maybe? So powerful a thing, that box which contained the magic of communicating.
There remains a certain excitement when I think about that old telephone, and I realize now that it really wasn't much when compared to all the ways we use today to communicate with those we love or maybe to the man who will be coming next week to paint the house. That old phone really was such a simple thing, but it added a world of extension and so very much to our lives back in 1940.
By Julia from Boca Raton , FL
August 23, 2018
0

found this helpful
It is important to be cautious of anyone contacting you via telephone. There are many criminals who use fraudulent tricks to get personal information, which can result in identity theft or credit card fraud.
This is a guide about avoiding telephone scams.