Tips For Making Weeding Easier
For many gardeners, one of the most unpleasant (and seemingly endless) aspects of gardening is staying on top of the weeds. Here are some simple tips to make the job easier.
Weed often, for short periods of time. Breaking down one large job into a series of small-sized tasks makes any unpleasant chore seem easier and less intimidating. For some of us, summer is short. Fifteen or twenty minutes a day or two a week is far preferable to giving up an entire Saturday once a month. Remember, it's not necessary to banish every weed in the garden all at once. (and probably not possible). Weed more often, but for shorter periods of time.
Weed early in the season. If you focus most of your weeding efforts early in the season youíll find yourself having to weed less later on. After planting, remove weeds as soon as you see them. As your plants mature, their leaves will start to cast a shadow on the soil making it more difficult for emerging weeds to take hold.
Remove the roots, reduce the work. If new weeds continue to emerge in the same exact spot you're weeding week after week, make sure you're not leaving the roots behind. Some weeds spread by roots and tubers underground. Remove them completely the first time, roots and all, and be done with it.
Get them when they're small. Older weeds have more time to establish root systems and are harder to pull out. Get them when they're small and they'll be much easier to remove.
Deadhead them. If you don't have time for a full on weeding session, at least pluck off any visible flower heads on weeds before they have time to go to seed. Make sure you toss flower heads in the trash and not the compost pile.
Weed when it's wet. Weeds are much easier to pull when the ground is wet. Plan weeding sessions for right after you water or, if possible, take advantage of wet ground right after it rains.
Use both hands. This sounds silly, but it really works. You'll cut the time you spend weeding in half if you can learn to weed using both hands at the same time.
Let mulch do the work. The more you mulch, the less you'll have to weed. A deep layer of mulch around plants will benefit your garden in several ways by discouraging weeds, conserving soil moisture, regulating soil temperature, and adding organic nutrients to the soil as it decomposes.
Give your back (hips, shoulders, and legs) a break. While weeding, change positions frequently to avoid placing strain on any one part of your body for extended periods of time. Stand up, sit on a bucket, kneel on a piece of foam, and use tools ergonomically designed to lessen the strain on your muscles and joints.
Unwind as you weed. Weeding is necessary chore, so why not enjoy the time you spend doing it? Spending some quiet time in the garden, either alone or with family, can become a wonderful way to unwind after a long day at work, spend time with pets, or reconnect with members of your family. Weeding doesn't require much thinking, leaving you free to think about other things. If you have access to an MP3 player and headphones, try listening to your favorite music, listening to an audio book, or even learning a foreign language.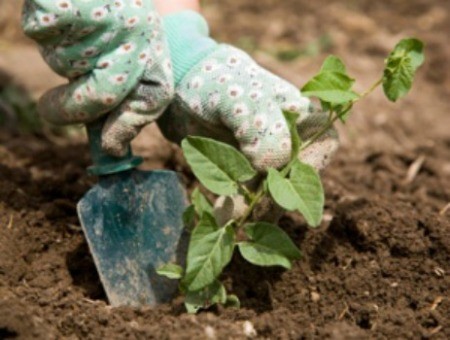 About The Author: Ellen Brown is an environmental writer and photographer and the owner of Sustainable Media, an environmental media company that specializes in helping businesses and organizations promote eco-friendly products and services.
Add your voice! Click below to comment. ThriftyFun is powered by your wisdom!
August 7, 2009
1

found this helpful
Great tips -- I didn't think about deadheading so they won't spread their weediness around! Here's more on weeding:
www.oldhouseweb.com/.../weeds.shtml
August 9, 2009
1

found this helpful
I use a weed puller (weed hound). You do not have to bend over, it's worth the money, and lasts a life time. Put weeds in a bucket as you pull them, then into the garbage. Good luck.
August 2, 2013
0

found this helpful
I consider weeding as therapy! It's a lot cheaper then a shrink and you have something pretty to look at when you are done!
February 26, 2017
0

found this helpful
Thanks EllenB, I always enjoy reading your garden "how toos".
February 26, 2017
0

found this helpful
Great tips thanks!
November 26, 2017
0

found this helpful
I don't like to use salt,as it can build up in the soil. I take great gratification on using boiling water.
No residue, just don't put it on your plants. I boil the kettle a couple of times tipping it into an old esky. Then you can scoop it into a jug,or hook up a sprayer.
August 5, 2020
0

found this helpful
I use a Hoe or spade I just slice through them and it works yes they will grow back but do it this way and less back pain etc and like the article says do it little at a time it's not a Marathon
Add your voice! Click below to comment. ThriftyFun is powered by your wisdom!
Advertisement
Published by ThriftyFun.
© 1997-2020 by Cumuli, Inc. All Rights Reserved.
https://www.thriftyfun.com/tf72753105.tip.html