Cricket
Bronze Post Medal for All Time! 205 Posts
January 9, 2010
0

found this helpful
The perfect plant for you would be a snake plant, otherwise known as a mother-in-law's tongue. It is extremely easy to take care of. Needs very little light, can even survive for quite a while on no light. Very forgiving if you forget to feed or water it.
My cat also tries to chew on my plants. I went to the baby department of a local drug store and picked up some stuff that's made to stop children from biting their nails or sucking their thumbs. I applied that to the leaves of my plants and voila!
The cat tries it once and backs away quick! LOL Doesn't hurt her at all but sure deters her! I reapply it every few days just to be sure but she's learning to stay away.
And snake plants are very easy to apply this to.
ust to be safe, you could also put some medium to large size rocks all around the top of the soil too, to keep the cats out. Works for mine!
Here is a good web site about them: en.wikipedia.org/.../Sansevieria_trifasciata
Good luck!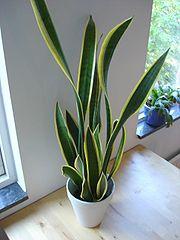 January 10, 2010
0

found this helpful
Two good low-light plants are English ivy and the peace lily. Both are easy to care for, just requiring a little regular watering. They're very good at purifying the air, too.
I think most houseplants are toxic so if you can put them somewhere your cats can't get them it's best.

January 14, 2010
0

found this helpful
I have a spider plant doing extremely well in a high darkish corner. I have also had good luck with Hoya in indirect light. I have a golden pothos (devils ivy) doing very well in my bathroom which has very little natural light. I'm sure there are going to be lots of other suggestions from other people as well. I used to have a lot of house plants AND two cats. I only had a problem once. One cat obviously was chewing on 'Dumb Cane' (Dieffenbachia)- He couldn't meow for about a week! But he never did it again.