October 21, 2005
0

found this helpful
He is a cute mini lop rabbit!! We used to raise rabbits and I do miss them sometimes.
Get yourself a good book on raising rabbits. There is lots of "people food" that they can have but a number of things that they also shouldn't have. They love to chew. Shrubs branches that they can chew on should be listed in the book.
We had a rabbit loose in the house but he had buck teeth, which meant that he was the perfect indoor rabbit...he couldn't chew on any furniture! There are so many hints on raising rabbits...find a breeder in the area and go for a visit. There are rabbit shows in most towns/cities. Enter him in a show. You will learn lots.
By christi (Guest Post)
October 22, 2005
0

found this helpful
I have never had a rabbit so cant help you there i am sorry. but I just had to say he is so gorgeous, if my puppy wouldnt be mad as all get out I would get one after seeing yours.
By Love my rabbit too (Guest Post)
October 22, 2005
0

found this helpful
Just do a search for "rabbit care" and many sites come up. I would check with the House Rabbit Society first and follow closely their recommendations.
Enjoy your sweet and entertaining little friend!

Missy
Bronze Feedback Medal for All Time! 195 Feedbacks
October 24, 2005
0

found this helpful
He's adorable, makes me want to give him a hug!
By Chelsea's mom (Guest Post)
November 7, 2006
0

found this helpful
Hi,
Starbuck is so adorable. I have a little bunny and her name is Chelsea.
I don't know too much about rabbits myself either. However, from talking to a vet, Yogurt based treat should not be given to bunnies. The vet said something about how yogurt needs some kinda bacteria to make them from milk to become yogurt and these bacterias don't react too well in the tummy of a bunny, unlike in human's bunny. My rabbit used to love Yogurt dip treats too, but i decided to stop. there are other lots of other healtier snacks to give them.
Also, lots of hays!! as they can't puke out their hair like cats, so they need to have hays to get the hair (from liking their own fur) out of their system. Oh yeah, don't use wood shaving for their litter as shavings produce some kind of fumes that can cause some kind of liver problems. I use shreded papers instead.
That's all i know so far! Have lots and lots fun with Starbucks. Don't forget to hug and kiss him everyday!!
I am attaching a pic of my precious Chelsea.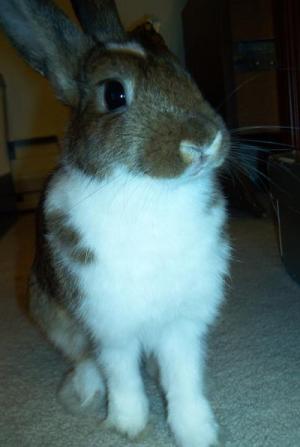 April 3, 2007
0

found this helpful
Oh my he is soooo cute I got to get one!!I had a rabbit when I as a kid hes name was bunnzi. thanks for the photo:)

April 27, 2008
0

found this helpful
I am also new to the rabbit game and I love it. I did a lot of research and found many useful things. Check out Getting Started: Clicking With Your Rabbit By Joan Orr and Teresa Lewin.
As far as snacks:
Ok Snacks:
Fresh veggies (2 cups a day per 6 pounds body weight)
Carrots (2-3 inches per day max)
Carrot, beet, radish tops
Mustard or collard greens
Cilantro
Clover
Dandelion flowers and stems
Parsley
Brussels sprouts
Peaches
Grapes
Strawberries
NO NO NO:
Processed crackers or cookies
Meat
Seeds, nuts, including apple seeds
Chocolate
Peas
Potatoes
Corn
Iceburg lettuce
This is my Leon :)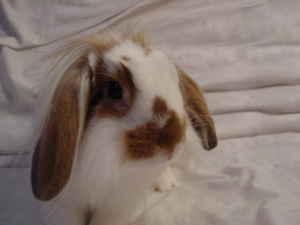 By Candace (Guest Post)
December 14, 2008
0

found this helpful
You should really try putting flat newspaper on the bottom of his cage then putting shredded newspaper in one corner. The best way to train your rabbit is to watch it for a while and if it chooses a certain corner for something change it. Some rabbits go to the bathroom in one corner, eat in another and sleep in one corner. If you do this it will cut down on the noise it makes rearranging the "furniture".
I clean my rabbit every two weeks with "Bunny Bath" you can usually tell when they need a bath if they start cleaning their fur a lot. Rabbits like to be clean and I can recommend that if you take out the soiled paper every day you can cut down on your work. I hope this helps.