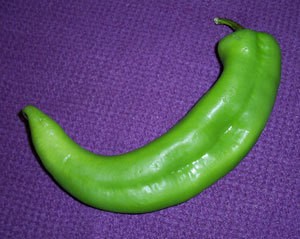 Description:
Anaheim peppers also known as New Mexican chiles, can range in heat level depending on where they are cultivated, maturity level, and how they are prepared. Usually they have a mild to medium heat level. These chiles range in color from light green to red. As the chiles mature the skin turns red but can be used for cooking at any point. These peppers are commonly used in decorative chile hangings called ristras, which are traditionally made for storing for later use, but these strings of dried chiles have also gained popularity in some home decor.
Uses:
Anaheim peppers are most often used in chile rellenos. These chiles can be stuffed like poblanos.
Buying Fresh
When buying fresh, the chiles should be vibrant in color, without wrinkled, soft skin.
Preparation:
The skins should be removed before eating because the skin is tough. This can be done by broiling the chiles in the oven until the skin is blackened or over a gas flame. Then let the chiles cool in the refrigerator then the skin can be removed easily. If you want to cut the heat remove the seeds and membranes before cooking. For stuffing, slit the chiles open length wise and carefully remove the seeds and membrane, then stuff.
Storage:
Chiles can be stored in a paper bag in the refrigerator for a week and in an airtight container in the freezer for up to a year. These chiles can also be roasted and stored in the refrigerator for 2 weeks and in the freezer for 3 months.
April 3, 2008
1

found this helpful
I've posted this tip before, but it's INFINITELY EASIER to peel your roasted chiles after they've been frozen. Freeze on plastic wrap in a single layer and remove as many as you need from the freezer.
Run under hot water for a few seconds, and the peel will slide right off! The chiles thaw quickly this way.