My refrigerator door is dotted with colorful magnets holding coupons, business cards, photos, appointment reminders, and my grandson's art work. Prominently displayed in the center of the collection is a quarter-sized chip from a cabinet door in my outdated, 1980's kitchen.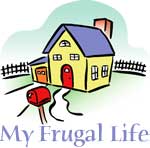 The beige Formica chip serves as an incentive for a much needed kitchen re-do. It is also a visual reminder that since I have no money for remodeling, the only way to have that new kitchen is to start saving up for it - by cutting expenses.
Inspired by my goal, I launched a savings plan. I started out in small steps, which I call "nickel and dime-ing." That first week, I clipped coupons for a savings of $8.75. Since I live alone and don't cook a lot, I was pleased. My bounty included one coupon for $1.00 off bagged salad, a $1.00 savings on the cat food I buy, two $1.00 coupons for the flavored coffees I prefer, and $1.00 off frozen pizza. The most valuable was a $3.00 coupon for the hair color product I use. Coupons for forty cents and thirty-five cents were applied to packaged deli-meat and sliced cheese. Instead of the expensive cookies I usually purchase, I bought the store brand. The cookies cost ninety-four cents and were as tasty as the pricey ones. Store brand potato chips went into my shopping cart for a hefty savings of over a buck.
I am not yet ready to give up my sodas in favor of plain water or tea, but I did make a sacrifice by choosing the store brand ($.64 for two liters) instead of the "real" thing. The less-expensive cola wasn't bad at all, and each time I got ice for my drink, I lifted my glass in a toast to the ugly, dingy, cabinet door chip stuck to the fridge. I laid in a supply of plastic storage bags of various sizes to package crackers, cookies, chips, and salad croutons. Since these items frequently lose their freshness if not used up quickly enough, re-packaging became an important part of my nickel and dime-ing campaign. Often I've thrown away half a package of stale or moldy bread, but now I divide the loaf and freeze half until I'm ready for it.
During Week two of my nickel and dime savings campaign, I began packing my own lunches. A container of yogurt, a piece of fruit, and cheese and crackers made a tasty, inexpensive meal. Other lunch favorites: salad, or a sandwich of lunch meat and cheese (both purchased with cents-off coupons) and zip-lock bags of my store-brand chips and cookies. At the dollar store, I stocked up on shampoos, conditioners, lotions, and shower gels. Many of these grooming staples were at least half the price of grocery store products, as were cleaning goods and supplies.
My nickel-dime savings plan has extended to other areas, as well. A recent trip to a thrift shop yielded a pair of nearly-new jeans for $2.00 and a barely-worn Koret blouse for $3.00. For another three bucks, I splurged on a great looking Fossil purse, perfect for Spring. A set of four new place mats for the back porch table was half-price at just $2.00. Total expenditure - ten dollars!
That extra money left in my checking account at the end of the month will be transferred into a special savings account earmarked for my new kitchen. I'll count on tax refunds, bonuses, and extra savings to beef up the account, but my small-steps efforts are paying off. A nickel here, a dime there - soon there'll a dollar or two, then five, maybe ten bucks - that's what I call "nickel and dime-ing" my way to a new kitchen!
Joyce from Lakeland, FL