October 26, 2010
0

found this helpful
For us, it just took persistence. I think that, initially, I used it with other things, rather than on its own. Like pepper steak with rice, where you spoon the pepper steak and sauce over the brown rice. Or I'd use brown rice instead of white in stuffed peppers. I think that it helps ease the transition to the new texture. I still keep some of my short grain rice on hand for fried rice and oriental dishes, but when I cook rice, it's primarily brown. Try some saucy food, and hang in there!
October 27, 2010
0

found this helpful
Instead of going to 100% brown rice, try starting with a 4:1 ration for brown to white. Then after everyone gets used to the different flavor and texture, add in a bit more brown. Even if you never get all the way to full brown rice, you are eating healthier.
As for flavorings, I often cook rice with chicken stock and maybe some fresh herbs, like cilantro. My husband adds a pat of butter and some soy sauce to the water. I also like the longer grain rice better in brown than I do in white. Costco has a nice basmati and you can buy a bit in bulk at many supermarkets.
October 27, 2010
0

found this helpful
I cook brown rice in salted water and could eat it just like that. Yummy! You could try cooking the rice and add cooked chicken, pork, beef with a gravy, sauce or in a homemade soup with veggies.
October 27, 2010
0

found this helpful
Trader Joe's carries brown jasmine rice. It has more of a "popcorn" type flavor when you cook it.
If you don't have a TJ's nearby, try an Asian market.
October 29, 2010
0

found this helpful
I have never liked it either. It makes me think of bugs. You could mix it with the white, but they will probably pick it out. Sometimes you have to give up on some things. Good luck.
October 29, 2010
0

found this helpful
Hello,
Use long grain wild rice cooked in chicken stock. It will need to cook a bit longer since it is heartier. I know my hubby won't eat brown rice but for some reason he thinks the long grain wild rice is exotic. Go figure! :)
October 29, 2010
0

found this helpful
Try using converted rice which is steamed before it's husked and is a process that causes the grains to absorb many of the nutrients from the husk. It doesn't retain as many nutrients as brown rice but it retains a lot more nutrients than white rice and will probably be more palatable to your family.
Also, the carbohydrates in either brown, converted or white rice is almost exactly the same so really the question should be over nutrients and flavor that your family wants rather than carb reduction. ;-)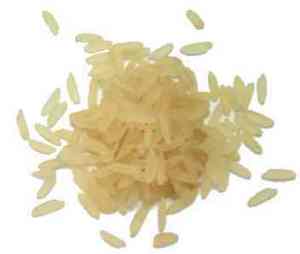 October 29, 2010
0

found this helpful
We mix the brown rice with white, add chicken stock (not bullion). I buy the concentrated stock at a restaurant supply store. Be sure chicken is the first ingredient. I found Jasmine brown rice and that is great! We eat that by itself. Try minute rice brown rice as the flavor seems more mild because it is different, but so much better for you. :)
October 30, 2010
0

found this helpful
If you want, after it's cooked try adding a little lemon juice. I also add dried fruit and nuts. It's really delicious especially with pork chops.
October 30, 2010
0

found this helpful
I never liked brown rice or whole wheat pasta but I started eating them because they were good for me. It didn't take very long before I really started to enjoy them and now I don't like white rice and white pasta.
Have a little patience and your family will enjoy brown rice soon.
November 5, 2010
0

found this helpful
I made the change from being a "meat and potatoes" man to being 100% vegetarian a while back. Another change I made was ditching "white" grains (rice, bread, pasta, etc.) for whole grain. Brown rice was a challenge.
Until your family gets used to it (now I love it even more than white rice, even plain), you really need to punch up the flavor. Here's my own recipe, it goes with almost anything:
Spanish Rice
1 cup brown rice
4 cups vegetable broth
1 8oz can tomato paste
Olive oil (enough to cover the bottom of the pan)
1 medium onion, chopped
About 1/2 cup fresh parsley, chopped, or a couple of tablespoons dried
4 jalapeno peppers, chopped (or more, or less, depending on your taste)
Chili powder (to taste, normally at least 3-4 tablespoons but add slowly and sample as you go)
1 or 2 cloves garlic, finely chopped or pressed (or more to taste)
Heat olive oil in a pan, add onions & garlic, cook until onions are translucent (don't burn the garlic!). Add brown rice. Toss constantly with spoon until rice is evenly toasted. Toasting the rice is key to the nutty flavor. Add tomato paste and jalapenos and mix thoroughly.
Keep tossing constantly. Right as the tomato paste is starting to leave tiny dark brown flecks at the bottom of the pan (maybe five minutes or so), add everything else, the chili powder last (add some at a time, stir, and "sample" the broth until you have it where you want it). Be careful, that pan is hot and that vegetable broth is going to "explode" into a steam cloud if you dump it all in at once, slowly! Stir well to mix everything up.
Throw a lid on it, turn down the flame, and keep an eye on it. When the water has absorbed to the point that you can't "see" it anymore, and the rice is even in the pan with big steam holes popping up around the top, turn the flame off and let it steam another 10-20 minutes or so. Voila!
This freezes really well, and can even be made in a slow cooker (when you get to the "dump everything in" step, do it in a slow cooker on low for an all-day cook or high if you only have an hour or two until dinner).
November 6, 2010
0

found this helpful
Try Alton Brown's recipe for Baked Brown Rice. It's delicious.
November 8, 2010
0

found this helpful
My kids have found that they prefer the brown rice, especially if I use a little sesame oil and sesame seeds in the rice as it is cooking.