By guest (Guest Post)
October 13, 2008
0

found this helpful
Best Answer
Carrots should be scalded in boiling water for 3 minutes. Then cool, package, and freeze promptly. No water added.
October 16, 2008
0

found this helpful
Best Answer
Before freezing any vegetable, it must be blanched.That means dropped into boiling water for a few minutes, then removed from the boiling water, and chilled. So, wash , peel, and cut the carrots, drop them into a pot of boiling water to blanch, drain off the boiling water, and chill them to stop the cooking that the boiling water started.
Have a large container with ice cubes and cold water ready, and after draining the carrots, put them right into the prepared ice water. If you want these carrots slices so you can use a few at a time, then freeze them on a cookie sheet until they are frozen, remove them, and put into a freezer bag, or container. If you use the cookie sheet, it'll take a time or two to freeze all of your carrot slices.
If you just dump them directly into a freezer bag, or a freezer container, they will freeze into a giant chunk of carrots. And then you'll need to use the whole container for a recipe, because it will be difficult to break the chunk apart. Hope this is helpful. I am sure there is a site somewhere that can explain it better.
October 17, 2008
0

found this helpful
Go to www.pickyourown.org . They have every kind of fruit or vegetable to freeze or can.
I use this site faithfully during harvesting all my goodies out of the garden.
Barb in Tennessee is right on the nose with her help and so is nightrain71.
Good luck.
Penny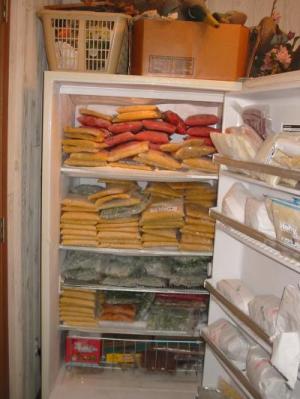 March 26, 2011
0

found this helpful
No. I have been canning since my 20's and I am retired now. My Mother and I use to cut carrots blanch them for three minutes let them sit in a colunder and put them in freezer bags.
For Grated carrots, we just peeled them and then grated them and put 3 cups in a bag so that when we wanted to make carrot cake all we had to do was get the carrots out of the freezer,,those you don't need to blanche,,just peel and grate....