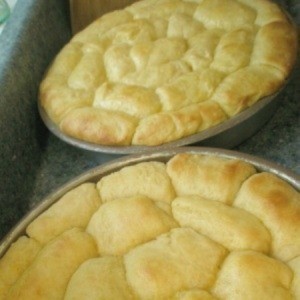 This recipe is easy and produces an exact replica of the Sister Schubert rolls found in your grocery store.
Ingredients:
1 (1/4 oz.) envelope active dry yeast
1 1/2 cups warm water (100 - 110 degrees)
5 cups sifted all-purpose flour, divided
1/2 cup sugar
1 1/2 tsp. salt
1/2 cup Crisco, melted (Crisco works best)
2 large eggs, lightly beaten
1/2 cup butter, melted
1 1/4 cups all-purpose flour, divided
Directions:
Important Note: Only use glass bowls and wooden spoons. NO metal! The secret to this recipe is DO NOT knead the dough!
Combine yeast and warm water in 2 cup liquid measuring cup; let stand 5 minutes.
Combine 4 cups sifted flour, 1/2 cup sugar, and salt in a large bowl. Stir in yeast mixture and Crisco. Add eggs and remaining 1 cup sifted flour; stir vigorously until well blended. (Dough will be soft and sticky.) Brush or lightly rub dough with some of the melted butter.
Cover loosely; let rise in a warm place (85 degrees F), free from drafts, 1 1/2 hours or until doubled in bulk. (NOTE: Place covered dough in microwave next to cup of steaming hot water to rise. Also, quick-acting yeast helps speed this process along.)
Grease 4 (8-inch) round cakepans; set aside.
Sift 3/4 cup flour in a thick layer evenly over work surface; turn dough out onto floured surface. (Dough will be soft.) Sift 1/2 cup flour evenly over dough. Roll dough to 1/2-inch thickness; brush off excess flour.
Cut dough using a floured 2-inch round cutter. Gently stretch each round into an oval about 2 1/2-inches long. Dip 1 side of oval into melted butter. Fold oval in half, buttered side facing out. (Floured side will form the famous Parker House pocket.)
For each pan, place the folds of 10 rolls against side of prepared pan, pressing center fronts of rolls together gently to seal. Place 5 rolls in inner circle, and 1 roll in center for a total of 16 rolls per pan.
Cover loosely and let rise in a warm place, free from drafts, 1 hour or until doubled in bulk.
Preheat oven to 400 degrees F. Bake rolls, uncovered, for 12-15 minutes or until lightly browned. Immediately brush with melted butter.
Yield: 64 rolls
Source: "Best Kept Secrets of the South's Best Cooks" from the editors of Southern Living
By April from Albany, GA
Comments

Elaine
Bronze Post Medal for All Time! 172 Posts
December 4, 2009
0

found this helpful
This looks and sounds good but the Crisco is what bothers me because it has trans fats. Or can you get Crisco now without trans fats?
February 13, 2016
0

found this helpful
I tried this exact recipe a couple weeks ago and it was nothing like the ones I'm hooked on from the store. They were bland as could be..... Didn't rise like they were supposed to....
The texture didn't come out right... They were disappointing. Idk why they didn't work for me? This is the exact recipe I got from another sight

August 27, 2016
0

found this helpful
Use Spectrum. It is palm oil and no trans fat. Amazon sells it. I use it in everything from breads to pie crusts. It does not go in the fridge...causes it to harden. It will soften later, if you pull it out of fridge, but that takes time.

September 3, 2019
1

found this helpful
I made these exactly as stated and they came out great.
Read More

Comments