I went out into the world and started supporting myself at age 15. At age 22, after a disastrous teenage marriage, I became a single mom and learned frugality out of necessity. I learned to swallow my pride and accept "handouts" to keep my child fed and clothed. I remarried at 25 and have now been married more than 20 years. The main thing I have learned, I think, is compassion. While I grumble at the rising costs of gasoline, etc, I am not seriously in danger of becoming homeless or of going hungry... but so many others are. Perhaps because I was once there myself, I feel that I cannot turn my back on those in need.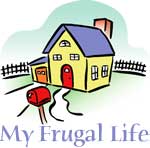 One thing that I feel passionate about is donating school supplies to families who cannot afford to buy them for their children. I vividly remember when my son (now almost 30) was starting kindergarten and I was barely scraping by as a newly single Mom. I literally burst into tears in the school supplies aisle of K-mart when I realized that there was NO WAY I could afford to buy the required supplies, even at that grade level, unless I skipped buying groceries or paying the rent. I vowed then and there that once I got back on my feet, I would try to spare other Moms from having to experience that. So now I buy all the "loss leader" school supplies at all the stores for several weeks leading up to the start of school, and donate them to those in need.
I also purchase clearance items all year long and make up Christmas "goodie bags" which I deliver to our local County Home each December to the destitute, mostly elderly residents. I use coupons and my finely honed bargain hunting skills to fill a grocery sack with non-perishable food items, which I drop off at a local food pantry roughly once a month.
There's a quote I love from Mother Theresa: "Not all of us can do great things -- but all of us can do small things, with great love."
Lucky One from IN
Do you have a frugal story to share with the ThriftyFun community? Submit your essay here: https://www.thriftyfun.com/post_myfrugallife.ldml