By Wendi (Guest Post)
July 16, 2007
0

found this helpful
Check out this gutter guard system on line at www.gutterguardall.com.
I installed this product on my home myself and it was pretty painless. I have a standard 2 story split level home and installed 170 feet of it with a helper in about 3 hours on a Saturday.
I have done quite a bit of research on other gutter guards and actually tested some of them on my home. The ones that completely cover your gutter and depend on the water and gravity to make it work are completely worthless because not only is the water gravitating to the opening but so is all the debris you want to keep out of your gutter. It's the standard law of movement. Where the water flows so does the "stuff"!! Not only that but you have to worry about birds and bees nests getting in there. The aluminum mesh ones are worthless because they buckle and just end up in your gutter like the leaves you are trying to keep out.
I liked this gutter guard because it was easy to work with, sturdy, and has really kept the yucky spring debris out of my gutters. So, I'm sure it will do great in the fall. I took a bunch of pictures of the debris that has blown off the gutter guard and onto my patio. It's amazing to see how much stuff WOULD have been in my gutters. If you want I can send you the pictures.
It has these ridges on it that make most of debris push off like a little slide system. I have a TON of trees in my yard of every kind and was flooding due to bad gutters. We installed new gutters and then this gutter guard system. It made a huge difference. We are not flooding anymore!! While I don't think that any product will ever be "perfect" I am REALLY satisfied with this one. Check it out. It's appalling what companies are charging for some of these gutter guard systems. I think you will like this one and the price.
By Zoi R. (Guest Post)
August 1, 2007
0

found this helpful
Gutter Guard All products are TERRIBLE! Ours was installed by a professional company rep with a lifetime warranty. It fell apart after 5 years and the company - which now only offers 5 year warranties - refuses to replace it.
I would definitely NOT use their product. They do not stand behind what they sell.
By Gutter Guard All Central Ohio Franchise (Guest Post)
August 8, 2007
0

found this helpful
To answer the review in question, we have found from talking to the Northern Ohio franchise that the product that was installed on her home was installed 10 years ago. She did not contact our company until the product had been on her home for 9 years. This is well past the stated warranty. The manufacturer has never offered, in the history of the business, a lifetime warranty, but only a 5 year warranty. The homeowner was not able to produce her paperwork in order to prove that someone had actually offered her a lifetime warranty. While we would love to help her and replace the Gutter Guard we are bound to our territory and bound to the warranty the manufacturer has always offered. In addition, the Gutter Guard All product that was installed on the home was brown. The manufacturer has since discontinued this product. As with any business, we strive to continue and improve our products and services and will stand by our warranty should our product fail within the warranty time frame.
By Gutter Guard All Central Ohio Franchise (Guest Post)
August 8, 2007
0

found this helpful
Here are some reviews from some very happy customers of Gutter Guard All.
Richard Williams
Galion OH.
Installed over 10 yrs ago.
"Honestly, I don't even give them a second thought. I haven't had to worry about my gutters being clogged in so long I just forget about them!!"
Lowell & Dodi Garberick
Galion OH.
Installed over 10yrs ago
Lowell - "Keeps maintenance down tremendously. We used to have to clean our gutters once a month, but haven't had to do that in over 10 years since Gutter Guard All has been installed!"
Dodi - "I think they are great, and it keeps my husband off a ladder!"
By John (Guest Post)
May 1, 2008
0

found this helpful
The truth is you get what you pay for. There are systems out there. I have gutter shutter on my home. It cost about 4000. I wasted close to a thousand on all the screens and foams and bigger down spouts.
Finally I just bit the bullet and bought the real deal. It's been 3 years, I've never had a clog and they look great!
October 25, 2008
0

found this helpful
I've been using a pretty simple and inexpensive system for a couple of years from http://www.gutterbrush.com. It cost only $390 to protect all my gutters. It works very well for me. I haven't had a clog, overflow or have I had to climb the ladder in two years.
It's gotten pretty good reviews across the web. I think for as little as $48 it's worth a try. They say they'll give you your money back if it doesn't work for you. I figure it saved me close to $3k over the high-pressure sales cover options.
They have a video on the web site and they will sell you a really cheap trial pack to prove it works. They claim a lifetime guarantee. Check out the video at www.gutterbrush.com/how-gutter-guard-works.htm .
Good luck.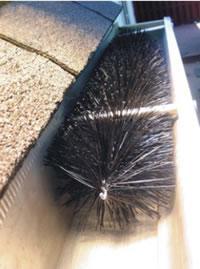 By bob (Guest Post)
October 28, 2008
0

found this helpful
I tried gutterbrush and it was awful. Clogged all the time and not easy to clean.
By Gutter A. (Guest Post)
November 8, 2008
0

found this helpful
Gutter Armor has a great product review. www.gutterarmor.net
Different price scales for different systems.
January 13, 2009
0

found this helpful
We live in Georgia in an area where there are more pine needle type trees (coniferous) than the decidious trees.
Does anyone have any product suggestions for keeping pine needles out of gutters?
Thanks...
By Heather (Guest Post)
January 27, 2009
0

found this helpful
I'm with John. You get what you pay for. I installed a guard myself to save me some costs. It is a mesh guard called Gutterglove. I love it. I think the best on the market.
By Mark (Guest Post)
February 17, 2009
0

found this helpful
We received over 10 estimates from the home show that we attended. Some of the products on the market are a joke. One of the products was 30.00 a foot and had a large opening in it. IF IT HAS AN OPENING, DEBRIS WILL FIND A WAY IN. That is just simple science. Reverse curve systems do not work.
We finally chose Leaf Solution. The price was right in the middle. Their salespeople were knowledgeable and it was very low pressure. Some of these guys were relentless to get the sale.
Leaf Solution has a stainless steel mesh that prevents even a grain of salt from entering. We are extremely happy and proud that we had this installed. I will never have to clean out the gutters again!
www.leafsolutionusa.com
Mark and Jen
Santa Rosa California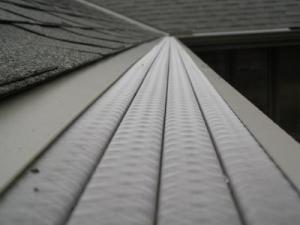 January 17, 2011
0

found this helpful
One to avoid is "Flo-free". I had installed it about 2 years ago, and in a recent snowstorm, the thawing and re-freezing of the snow on the roof "grabbed" the foam of the Flo-Free material and pulled it out of the gutter, rendering it useless. Granted, a 7" snowstorm in North Georgia is unusual, but even so, the design is faulty. I'll use something else next time.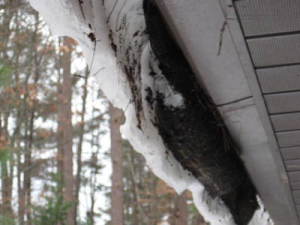 March 17, 2017
0

found this helpful
In the USA the best product out there is called Leaf Relief.In Canada its Gutter Clean made by alurex. Ive used it several times and it works best out of any of the products out there plus its not that expensive.