By diane (Guest Post)
September 16, 2008
0

found this helpful
I copied a picture of an example of someone who made lollipops out of wash clothes. I thought it was a cute idea. I hope it helps.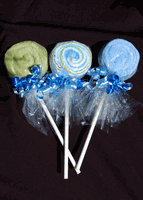 September 16, 2008
0

found this helpful
Washcloth Bunnies.
We used to make them all the time, to make our bathroom look pretty before a big event or party. They are easy to make, and you can do them with any color or size. You can even fill them with pretty soap or something... here is a website with instructions...
By Michele (Guest Post)
September 17, 2008
0

found this helpful
You could roll them up like a flower and put them on a stick like Diane mentioned (lollipops) and put them in a vase.
By rae (Guest Post)
September 17, 2008
0

found this helpful
My auntie gave me two wash clothes (one chocolate in colour and the other white) that we wrapped together to form a swiss roll cake. The clothes were then put on a foam tray (like meat packers trays) and covered in plastic. She just handed it to me and said this was just a little something. As she had come for morning tea - I actually thought it was a cake, until I have a good look at it and realised it was face washes. Sure fooled me and my husband. He came in looking for the cake and couldn't quite understand that it was not cake but clothes.
September 17, 2008
0

found this helpful
Thanks for the ideas. I was thinking myself after I posted the request that I could fill them will small soaps or a small bottle of lotion and tie a ribbon to it.
I could use the washcloth as a wrapper.
September 18, 2008
0

found this helpful
Sew two together, leaving an opening for the thumb if you want, add a washable ribbon loop to hang for drying, and you have a quickie wash mitt. Slip a nice soap inside and tie with a pretty ribbon to give.
September 18, 2008
0

found this helpful
In Girl Scouts, we made the candles at Christmas time, we used a nice smelling soap as a base, rolled the washcloth up and "sealed" with straight pins, using a piece of yellow ribbon in the center and sticking out the top as a wick. Netting was used to wrap the bar of soap and was brought up around the bottom of the "candle" and bunched prettily.
This was also attached with straight pins into the soap and the "candle". Curling ribbons were also tied around the netting and curled up with the scissors to make it pretty. These make great gifts! They can be used to decorate as is, or can be taken apart later and the soap and waschcloth can then be used.
By Realist (Guest Post)
September 22, 2008
0

found this helpful
You obviously have wash cloths you want to get rid of; but that doesn't make them into well intentioned gifts no matter what you do with them. Who do you know that needs or wants any kind of wash cloths that do not match or come along with an entire bath set???
Not you, nor anyone you know.
A gift should be personal and show the recipient what you mean to them or thank them for something they've done. Dumping you unwanted items no matter how you think you've repackaged them is NOT a decent way to go about gifting.
The same goes for regifting or trying to use a holiday gift as an excuse for you to get rid of some of the crafts you enjoy making. Gifting is about the recipient; NOT you seeking thanks and praise for the things you enjoy doing.
You may love to sew or paint but unless someone wears homemade clothing or has asked for a specific painting you have done; it's pretty selfish for you to unload those items on them. You might enjoy making pumpkin butter but that doesn't mean anyone wants to receive it.
Think about it. When was the last time that you got repackaged or homespun junk as a gift and actually told the giver it was repackaged junk? You didn't. You just thanked them politely, was offended and distanced yourself from them.
If you don't want people to see you in that light; respect them enough to give a gift that shows you value them more than being your personal junk receptacle. It doesn't have to be expensive but it should be personal.
September 22, 2008
0

found this helpful
I think you've received some good ideas here apart from the unnecessarily harsh comment before mine. Moms with babies in diapers might want the wash cloths to use as wipes and/or spare cloths for washing faces, etc.
I know I could always use extra wash cloths, and none of mine match. Who cares if the cloths don't come in a matching set? Whatever color, they get the job done.
By Bobbielynn (Guest Post)
September 22, 2008
0

found this helpful
Wendopolis, thanks for the positve feedback. I know I am always looking for a washcloth in my cabinets too. I don't care about the color. I have a washcloth that a friend gave to me that is rolled up in a cupcake holder with a plastic cherry on top. It is wrapped in cellophane and is a decoration in my bathroom. As for Realist ( guest post), I think you need a hug and a bubble bath.
By denise w (Guest Post)
September 22, 2008
0

found this helpful
I have one for this. I thought it was a great idea. I buy wash cloths that don't match as my hubby is sick and it allows me to not mess my good ones up every time he needs one. So here goes, you fold the wash cloth in half corner to corner and roll so you wind up with a cylinder like shape and than you fold in half and fold in half again and use cute ribbons to make a rabbit. You can also make other animals just google dishtowel animal instructions and you'll get lots more. Good luck d