Cleaning With Microfiber Cloths
Solutions
Share on ThriftyFunThis guide contains the following solutions. Have something to add? Please share your solution!
Microfiber cloths work very well for all types of cleaning. However, they should not be washed with regular laundry. It is better to wash them separately. Do not use fabric softener. Some of the cloths state not to use bleach. Always shake them out to remove any collected dust or debris before washing. I wash them in hot water and detergent and hang to dry. While they can be put in a dryer, I think they last longer when hung to dry.
If microfiber cloths washed with other items, they will collect lint and will not clean well. Basically, they will just be ordinary rags. Think of the cloth as having microscopic "hooks". When they clog with small fibers, the "hooks" no longer work. It's impossible to remove any fibers once they clog. They have a "Velcro type" texture, so they are not for rough surfaces, only smooth. I have enough of these cloths to make a small wash load.
I use these cloths in the kitchen as dish cloths. They work very well when washing dishes, pots, pans, and other kitchen duties. When used for house cleaning, you can use them dry or dampened with water or any cleaner. This will depend on what you are cleaning. Rinse or shake out occasionally when using.
Microfiber cloths can be found at most stores. They come in many sizes and thickness. The best deals are usually at dollar discount stores. Also, check the automotive departments for a good bargain. They are reasonably priced and long lasting if cared for properly. My husband has his own batch of microfiber cloths for cleaning the cars and outside work. They, of course, get much dirtier than the house cloths. I wash those separately and sometimes will soak them a bit. Being there are so many different colors of these cloths, he has his colors and I have mine.
My favorite are the ones I bought at Dollar Tree, four in a pack for $1.00. I found them in the automotive department.
By it's.only.me from Northeast PA
Kelly Ann Butterbaugh
1

found this helpful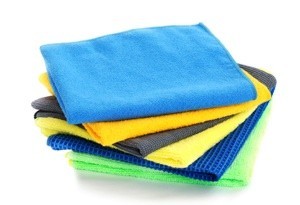 Microfiber is the economic solution to cleaning, though it might not seem like it. Microfiber materials are more expensive at the initial point of purchase, but they are long lasting and efficient cleaners.
What Is Microfiber?
Without being technical, microfiber material is specially woven from man-made fibers to be electrostatic and durable. It is a non-biodegradable material, and it is not recyclable. This is the downfall of microfibers. However, similar cleaning products such as Swiffer dusting cloths are also non-biodegradable and non-recyclable. The microfiber cleaning cloth is intended to be reused multiple times, creating less landfill and less lifetime cost.
What Does It Do?
Microfiber fabrics are soft and easily cleaned. They are used for stain resistance and absorbency, claiming the ability to absorb seven times their weight in liquids. Microfibers even boast the ability to absorb oily liquids.
Because of the microscopic levels of the fibers, bacterial cleaning is done on a grander scale as well. By cleaning with a microfiber cloth, 99% of the surface bacteria are destroyed. This same characteristic makes the microfiber towel superior to the cotton towel when left damp, such as children do with beach towels.
What the fabric is most known for is its ability to attract dust and other small particles. Its electrostatic properties attracts dust like static cling. However, one must be careful when using these cloths to clean smooth surfaces because any abrasive dust particles that are attracted to the cloth can scratch the smooth surfaces later.
How Does It Save Money?
Microfiber cloths are initially expensive. One 12x14 inch microfiber cleaning cloth can cost $17 while a box of twelve disposable Swiffer cleaning cloths cost $4. Most people turn away from the expensive cloth. However, the Swiffer box will only last twelve cleanings, and more than one dusting cloth will be needed to clean the entire house. The microfiber cloth will last throughout the cleaning, and it can be washed and reused over and over again. Caution must be used when washing microfiber cleaning cloths, though. Any type of fabric softening agent should not be used as it destroys the fabric's electrostatic properties.
There are other money saving reasons to use microfiber towels. For spills, several paper towels are used to soak up the accidents. Yet, one microfiber towel will most likely absorb most of the spill, or it can be used, rung out, used again, washed, and reused next time. Not only can the towels absorb more, but they dry quickly as well; leaving them ready for reuse even quicker. Think of how many rolls of paper towels will be eliminated with the addition of one microfiber towel in the kitchen.
When purchasing items such as upholstered furniture and table linens, look at the microfiber options. While they will cost more, they most likely will not stain to the same degree and need to be replaced as often as the more frugal option. Upholstered furniture will require less professional cleaning (a typical cost of $50 per seating area) as well.
While the microfiber fabrics might not be completely environmentally and economically friendly, if they last ten times as long as their counterparts they will quickly prove to be the superior choice.
Like many others, I have discovered the glory of microfiber cloths and I use them everywhere and have been for years. One tip that has really helped to eliminate the use of paper towels, is to use a rubber band and attach a microfiber cloth to each one of my cleaning bottles
Read More...
To clean glass mirrors and windows, I use a microfiber cloth. Wet the cloth well and wring out as much water as you can.
Spray the window with Glass Plus, that is what I use, then quickly wipe the mirror dry.
Read More...
Instead of buying expensive furniture polishes, just buy 2 microfiber cloths from the super market. Wet 1 of them wring it out so its just damp and use that to wipe over the furniture and dry with the other one. I do this because I get bad dermatitis on my hands.
Read More...
I put several microfiber cloths in a basket in each bathroom. We use them for drying our hands and for cleaning. I have a small basket that holds the dirty cloths, then I wash them all at one time.
Read More...
Questions
Ask a QuestionHere are the questions asked by community members. Read on to see the answers provided by the ThriftyFun community or ask a new question.
I actually have a question about the purple rags. I've read so many stories about how wonderful they are, how they save time, work great, and clean practically anything anytime no matter how dirty it is.
I've wanted to purchase them, but wondered what makes them work so well. Everything I have read doesn't mention anything about using with a cleaner. So does it have cleaner on it already, pretreated or something? If not, how does it do so well with no cleaner? Do you just use whatever cleaner you would have been using anyway?
By Julie from TX
Answers
September 18, 2010
0

found this helpful
Microfiber was created in Germany to be used without chemicals at all. They have 200,000 dirt and bacteria grabbing dots per square inch; you do NOT have to use ANYTHING at all with them to clean.
You can go to www.qvc.com or www.hsn.com and email for when problem solutions come on or Don Aslett. He is the Pres of the largest janitorial company in the USA; they have used them for YEARS to save $! He also sells mops: and the one I got is a tubular steel with thick pads that stick to the flat head like velcro; works FANTASTICALLY! The only thing you cannot do is to use bleach on them, or use any fabric softener on them.
September 21, 2010
0

found this helpful
I think the purple rags are what FlyLady sells on her site. They are just microfiber, which doesn't leave any lint and tends to polish stuff nice. I don't think there are any built in cleaners, they are just rags.
September 22, 2010
0

found this helpful
You can now buy microfiber cloths at the Dollar Store, sometimes 2 or 3 to a package. They work great!
Use no cleaners with them, sometimes you may want to dampen one corner with water to rub on a dirtier item. I use the cloths on my HDTV, it's the best thing ever! Some cleaners can damage the screen, but microfibre leaves it as good as new.
Answer

this Question

...
I hate the feeling of microfiber towels or cleaning cloths. Is there anything that takes that pinchy feeling away?
By Donna
Answer

this Question

...
Related Content