By Amy (Guest Post)
December 31, 2008
0

found this helpful
Congrats on your new puppy! So I am assuming people have been telling you about how Chows can be aggressive, which can be true. Any dogs though, can be aggressive. This is a mixed breed dog, so that helps. The things I would suggest is to spay/neuter at about 5-6 months of age. This can take care of a lot of problems before they even start.
Second I would start training classes ASAP - most places will make you wait until after the second or third round of vaccines. And make sure you involve the entire family in the training classes, as the obedience classes are just as much about training the PEOPLE as training the dog, and everyone needs to be on the same page. Another thing is to make sure the dog gets plenty of exercise - a tired dog is a well behaved dog!! I hope this helps, good luck!!
January 1, 2009
0

found this helpful
Thanks so much. We've started training at home so far...lots of training videos, and I am not giving in. lol Well he's definitely getting fixed asap. Although that was one of the top priorities, because I don't like unfixed male dogs. Thanks so much.
By (Guest Post)
January 1, 2009
0

found this helpful
We have had a chow / retriever for five years. The sweetest dog we have ever had. She has never been mean to our children, family members or friends. Everyone comments on what a great dog she is. She does growl at people she doesn't know who try to enter the yard when we are not home, but even then has never done anything more than posture.
My best friend has a three year old chow/retriever. He has told me, sweetest best dog he ever had. No worries, you will love this dog.
January 6, 2009
0

found this helpful
Chow Chows are not necesarily agressive I routinely babysat a half chow chow half cyote that was a big baby. What is important with any breed no matter what it is is that you do what you are doing and that is start training and soicalizing them from when they are tiny. Introduce them to lots of people in a positive way, establish a firm order of control in your house and you will be fine.
I also had the distinct privilege of keeping what I later found out was a half chow chow half wolf for my local sheriff's department who found him tied to a tree abandoned and abused. I had samoyeds at the time and he looked just like a black Samoyed and was really lovely.
He was a very nice dog despite bad treatment and being descended from two "scary" breeds/species and not being neutered. Sadly I was unable to keep him as he was a dog napped for drug money case, but oh how I wish I could have. I was just careful to let him know who was the boss/pack leader from day one, and to be gentle but firm!
Chow Chows do have a tendency to be a more aloof dog but retrievers are the furthest thing from this. You will do fine especially if you spay/neuter, keep your dog as part of the family, and give them lots of exercise everyday. Good luck and enjoy what I am sure will be a wonderful companion.
By glinda (Guest Post)
January 7, 2009
0

found this helpful
I know Chows can be aggressive, but, the Retrievers are excellent family dogs, and are faithful to their family, and the children in that family. It is a big breed and must be trained though. They can hurt by just jumping up on you when grown, and unintentionally knock down or scratch. So, with your puppy being a mix, I think you can have some high hopes of having a good dog, thanks to the Retriever blend.
But, as with any large breed dog, TRAIN!
Really we should all train our puppies, no matter what size. But, the larger breeds show up more because of their size. There are many ways to train a puppy, read, and ask questions, and don't forget to enjoy him, and show him a lot of love..
January 7, 2009
0

found this helpful
We once had a lab/chow mix and she was the best dog we ever had. She was a sweet dog and was a good family dog. Our kids were 7 and 9 when we got her and she was great with them. She was a fantastic watch dog and we called her our director of homeland security. I think you will enjoy your dog very much.
By (Guest Post)
January 7, 2009
0

found this helpful
We got a chow-mix from a rescue group when my daughters were growning up. Benji was a very social and loveable dog--excellent with all kids. We had a problem with neighborhood kids going into our back yard to play with him. A neighbor had a full-blooded chow that was very good with their grandkids, was good with everyone when the family was around, but was an excellent watch-dog when they weren't around and folks knew not to approach him in their yard when he was on 'guard duty.' I think it's how any dog is raised that makes them what they are.
Enjoy your chow-retriever - he's adorable and will make a good addition to your family!
January 7, 2009
0

found this helpful
I also agree your puppy will turn out to be a very good dog for your child. Our landlord has a chow/golden retriever mix and he has never shown the aggressiveness Chows are known for. I also agree with making sure your dog gets plenty of exercise. Retrievers are very, very active dogs, and can get into lots of trouble if left alone for very long.
Our landlord also owns a Black Lab and I call him Barabas. He's a big thief. He has brought home brand new tennis shoes, bowls, toys, you name it . If someone left anything out on their porch or in their yard it was fair game. He got so bad they put a shock collar on him. Personally I always laughed but then again it wasn't my things getting stolen.
Enjoy your puppy he's very cute.
By HSLINKS (Guest Post)
January 7, 2009
0

found this helpful
The 2 best dogs we had were chows, brother & sister. Absolutely fantastic with kids, very protective of what they consider 'their' kids.
When my dh & I first got them I was visiting a friend who had her granddaughter outside, a large dog came over towards the baby and my 2 little 7 week old puppies attacked that dog, would not let him near the child. He was probably 75/80# and these puppies are mostly fluff and fur, but lots of moxie.
Later we moved to Maine, my gf had 2 little pups. We'd walk in local woods and lumber trails for exercise with the kids. I would back pack the baby and "A" would run ahead with the dogs (he was probably 2 ish) .. I'd hear him ("A")whine and that cry when they are mad, and sure enough he wanted to stray further from the path than the dogs thought he should so they would block him.
BTW we did foster care and later adopted kids with special needs and mental health issues. Believe me if kids screaming, having melt downs and physically being violent didn't set these dogs off - your kid will be fine.
Other than hair issues they are great, keep them brushed. In summer you might have to cut the hair. They may end up with hot spots too.
Mine were not crazy about water but loved to flop in snow. They didn't voluntarily jump in the rivers etc, so we'd toss them overboard from the canoe and when they got to shore they were still dry at skin level.
PITS if they get hit with skunk - I think it was over a year and I swear I could still smell skunk on Bangor.
By Deb (Guest Post)
January 7, 2009
0

found this helpful
We had a full blooded Chow for 13 years and he was the most gentle dog that we ever had. He was great with our kids. One of our neighbors got his brother and he was gentle also. They were both big babies when there was a thunder storm. I sure do miss him. If I would ever get another dog some day, I'd want a Chow.
January 7, 2009
0

found this helpful
Why in the world would anyone tell you this dog will be agressive? Retrievers are lovely dogs and so are chows! You raise that dog with love and it will give it back.
January 29, 2009
0

found this helpful
Your puppy is so cute! We have an 8-year-old chow/lab male we adopted from a shelter when he was a year old. He had been in 3 homes when we got him. He is a very sweet boy. He was a little aloof when we first had him because he didn't know what a real home was like, but he is great! We have 3 grandchildren and he is very good with them. Just treat your puppy with love, take him to obedience school, get him neutered, don't let your child be harsh or mean to him and all will be fine. Good luck.
By Crystal (Guest Post)
February 3, 2009
0

found this helpful
We have a golden retriever chow mix and he is the cutest and sweetest dog ever! He is super trainable and we have been very happy with him. Hope you have a great experience with yours!
By Andee (Guest Post)
February 18, 2009
0

found this helpful
I have a pure bred Chow and a Chow/retriever mix. Neither of them are agressive in any way. In fact, my purebred is quite docile. The retriever mix is full of energy, LOVES attention, and is absolutely gorgeous. I will say that she shows a little bit of jealous behavior when she is not the center of your attention. (ie - will try to get between me and the other dog to get more lovin')
The mix breed topped out at about 45 lbs - so not as big as a purebred retriever.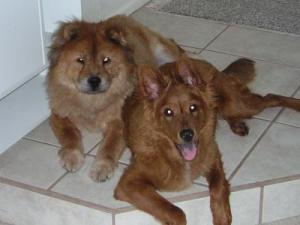 December 20, 2009
0

found this helpful
We got our male dog from a no-kill rescue as a pup. He was neutered + obedience classes. We loved our "chow"/golden mix for 15.4 Years. He was a great dog with a lovers personality. Great with kids for 15 years then
he got aggressive and did not like to be touched. He had arthritis in his hips & joints at the end. He was a great addition to our family and had a great, active, + fun life.
He enjoyed "a city life" and a "farm life" too. Chow loved traveling and rv'ing. (50-65#) Great watch dog, smart with unconditional love. We all miss him all the time. My adult son is now looking for another male golden/chow mix puppy in n.E. Ohio in good health if anyone knows of any locally, please advise. Enjoy + love your new puppy, he will love u right back!